Motown: The Musical, which played at the Fred Kavli Theater a couple of weeks ago, is Motown Records founder Berry Gordy Jr.'s answer to Dreamgirls, which depicted a villainous Gordy-like character who dealt in payola and other illegal activities. In the musically rich Motown, Gordy, who wrote the book, paints himself as a heroic figure who becomes embittered when all the acts he lovingly shepherded to stardom abandon him after other record companies offer them rich contracts.
Work Light Productions, on behalf of Theater League, has put together a musical extravaganza that bursts at the seams with talent. The production boasts meticulously researched choreography, authentic costumes, a vivid and exciting production design, and a vibrant rock combo, making Motown a virtual nostalgia sitz bath for aging baby boomers.
Unfortunately, the show's strong production values are overwhelmed by Berry's inane dialog, underdeveloped characters and annoyingly truncated songs, 58 in all, which are packed liked sardines into its score. Many are misplaced chronologically within the story's flashback time line, which begins and ends at the label's 25th anniversary concert in 1983, as Gordy wrestles with a decision whether or not to attend.
For all of his success as the label's founder, Berry had neither the experience in storytelling nor the acumen to write believable dialogue. Scenes between Gordy and Motown queen Diana Ross are embarrassingly sophomoric and rife with cringe worthy clichés. Not unexpectedly, Berry fails to add details about what biographies have revealed to be his notorious megalomania and sketchy business methods, not to mention Ross's diva like ambition.
Some songs are so excitingly staged that it's almost worth sitting through the clunky dialog to get to the next number, such as Trey McCoy (as Jr. Walker) sax-syncing Walker's 1965 hit "Shotgun," with animated silhouettes of go-go dancers projected on the screen behind him, and an incendiary version of the Temptations' "Ball of Confusion," commenting on the social upheavals of the late 1960s. Despite the bloated song list, some key Motown hits remain absent, notably Stevie Wonder's "Superstition" and Ross's Supremes farewell, "Someday We'll Be Together." Also missing are the dueling versions of "I Heard It Through the Grapevine" by Gladys Knight and Marvin Gaye, a scene that was yanked from the show. Knight, one of Motown's biggest stars, is conspicuously absent from the story altogether. To quote Gaye, "What's Going On?"
Kenneth Mosely is mostly wasted as Gordy and it's too bad. He has an attractive singing voice and charismatic stage presence, but unfortunately had to suffer through most of his character's embarrassingly clumsy lines. As Ross, Trenyce is glorious, a more voluptuous version of the rail-thin star with a honeyed voice that is hard to distinguish from the real thing. Her best moment comes when she glides into the audience to snag a volunteer to join her in singing her 1970 hit "Reach Out and Touch (Somebody's Hand)."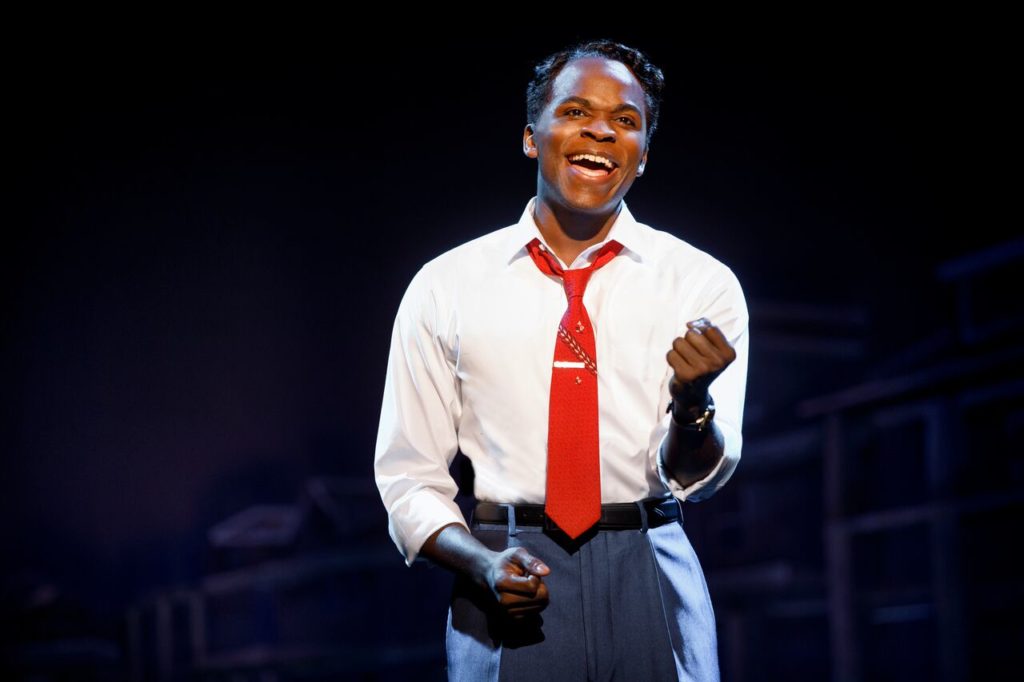 Aside from Gordy and Ross, only two other characters are given more than desultory exposure. Justin Reynolds sings sweetly as Smokey Robinson, shown as Gordy's loyal right-hand man, and Matt Manuel is the troubled Gaye. Others, including Stevie Wonder (Cartreze Tucker), David Ruffin (Erick Patrick), Mary Wells (Kayla Jenerson) and Jackie Wilson (Devin Holloway) are given short shrift but are excellent in their respective musical sequences. Of note is fifth grader Chase Phillips, who gives a precocious performance as the pint-sized dynamo Michael Jackson (Phillips was cast by Gordy himself, showing he can still spot talent.)
Although the audience was delighted by the non-stop blitz of hits, Motown remains just another flawed jukebox musical. As the Four Tops might have put it, "It's the Same Old Song."