A year ago, the Rubicon Theatre Company presented a new musical revue, I Dig Rock & Roll Music, which told, through its lineup of folk-rock hits from the 1960s and '70s, the story of what popular culture was like and how it reflected what was going on during that turbulent time. The show, which was conceived by George Grove, James O'Neil, and Dan Wheetman, succeeded the wildly successful Lonesome Traveler show, which did the same thing for an earlier era, the urban folk revival of the '50s and early '60s. With a cast of six young, exuberant performers, the tunes rolled by, accompanied at times by images ranging from the heady flower-power aura of the "Summer of Love" in 1967 to shocking visions of the Vietnam War and anti-war protests in the early '70s. 
This year, I Dig Rock & Roll has returned to the Rubicon for another go, although this time, none of the original six performers (including Wheetman) returned, each having other commitments. In their place is a new group, just as youthful and talented, who perform basically the same show, with the exception of a few substitutions as well as new songs written by four of the members.
The new group consists of keyboardist Scott Anthony (who also serves as musical director), vocalist Yvette Cason, Harley Jay on rhythm guitar, Beau Moore on lead guitar, Charlotte Morris on guitar, violin, and ukulele, and Emiliano Almeida on drums. All the members took turn on vocals with each exhibiting professionalism and likability in their respective roles.  
As in last year's show, three medleys were programmed at various points during the show, but it is the solo efforts that stand out; the medleys serving as nostalgic trinkets, some oddly paired, such as Edwin Starr's virulent "War" anthem being followed by Nancy Sinatra's go-go strut, "These Boots Are Made For Walkin'." As sung by Morris, "Boots" is played straight, like a  country song, without any of the original's spunk and sass, but the other medley songs do well to serve as fleeting souvenirs of the era, much like those old K-Tel anthology collections you'd see on late night television.
The show's creators took some liberties using the term "folk-rock," which is not really accurate for many of the songs in the show. I would certainly not put Marvin Gaye's "What's Goin' On?" Otis Redding's "Respect" (performed with enthusiastic gumption by Cason), or Neil Diamond's ear worm sing-along "Sweet Caroline" in that category. In actuality, the lineup of songs really has nothing in common with one another aside from the fact that they came from the same era.  To qualify as a true folk-rock concert, you'd need songs by groups like Crosby, Stills & Nash, Poco, and the Flying Burrito Brothers, but alas, none of those were included. Instead, the songs are mainly familiar Top 10 numbers designed to tickle your familiar-bone and, if you are old enough, evoke vague images of tie-dyed T-shirts, bell bottoms, and granny glasses. 
Missing from this year's concert is Joni Mitchell's "Woodstock," a curious deletion considering 2019 was the 50th anniversary of that exalted concert. In its place is Mitchell's other big hit from the period, "Both Sides Now," performed in a perfunctory fashion by Morris with the band backing her up. The song, which, in its original incarnation, was recorded by Judy Collins with a harpsichord backing, unfortunately retains none of the wistful quality of the original. 
There are plenty of effective moments, however, to overcome the occasional desultory arrangement. Cason gives a sensitive rendition of Paul McCartney's "Blackbird," written as an ode to black rights, with an appropriately trimmed-down accompaniment by Jay and Moore on guitars. Moore executes a terrific rendition of the Cat Stevens classic, "Peace Train," accompanied by images from Woodstock, the only acknowledgement of the concert's 50th anniversary.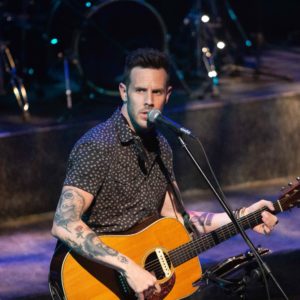 Harley Jay does a nice job on Harry Nilsson's "Everybody's Talkin,'" effortlessly hitting the final, extended falsetto note that brought hearty applause from the opening night audience, and Morris did a fine job on Joni Mitchell's "Help Me," also providing jazzy violin accompaniment to many of the songs.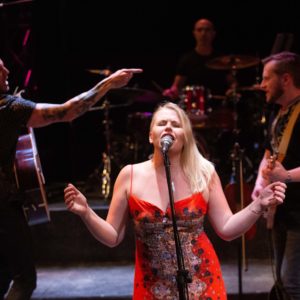 Of the four new original songs performed by the group, the best is Morris' composition, "Freedom," a cynical decrying of the Trump administration's immigration policy, with a refrain that confidently states, "we will raise the flag that once meant freedom," an image that sends chills up your spine when you realize what the American flag once represented and how it is viewed by many today. The song is not as viciously provocative as "Dangerous Clown," last year's viciously incendiary entry by Wheetman, but it serves its purpose as an excellent ramification of what the '60s were all about, showing that potent protest songs can and are still being written today. 
Another affecting moment was Beau Moore's solo performance of the emotional "Slip Away," written to honor his mother, who had recently passed away. On opening night, Moore could be seen wiping tears from his eyes after seating himself following the conclusion of the song.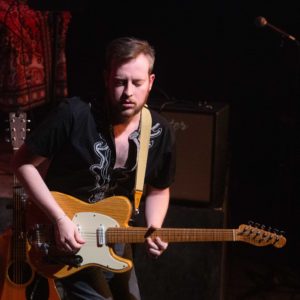 One of the last songs performed, Cass Eliot's "Make Your Own Kind of Music," has now taken on a different connotation, originally an innocuous sing-along, but now, taking on a completely different meaning, serving as a metaphor for the LGBTQ movement.  
*********************
I Dig Rock & Roll Music plays at the Rubicon Theatre Company through September 29. For tickets and other information, visit www.rubicontheatre.org
All photos by Jeanne Tanner