If you've ever worked in an office, you might be familiar with experiencing the panic of running late for an important meeting for which you are designated to play a key role. That is the premise in Michael Perlmutter's Severance Play, which made its debut at the Elite Theatre Company on October 29. Severance Play marks the company's return to live theatre, with a show that is alternately horrific, dramatically intense, and uproariously funny at the same time. The three-person play runs through November 21 at the Elite's intimate location in Oxnard.
Perlmutter's story tells of Jonathan (Brian Kolb), an executive at Matterson's Chemicals, who is preparing to go into an important sales meeting with a valued client but is unable to go through with his presentation because Elaine (Kimberly Demmary), his office manager, who was bringing the presentation materials, was delayed because she had found a severed head in a plastic bag on the highway and was being questioned by police.
Perlmutter got the idea from a real incident that occurred when he was a grade school student growing up in Ventura. When Jonathan loses the account, he impulsively fires Elaine, which leads to fireworks.
Severance Play (the title is itself a ghastly pun) is an exercise in seeing how far the old "my-dog-ate-my-homework" excuse can be taken in the business world. The bizarre premise could have escalated into comic farce, but Perlmutter's deftly-written script makes every turn of the screw appear logical, so that when the argument comes to a head (no pun intended), the three characters have become so well defined, that the story makes perfect sense. The show's highlight comes when another emergency is introduced, setting off a panic-stricken three-way phone conversation as Jonathan, Elaine, and Ginny, Jonathan's assistant (Maddie Boyd), momentarily forget about their argument and try to deal with this new disaster.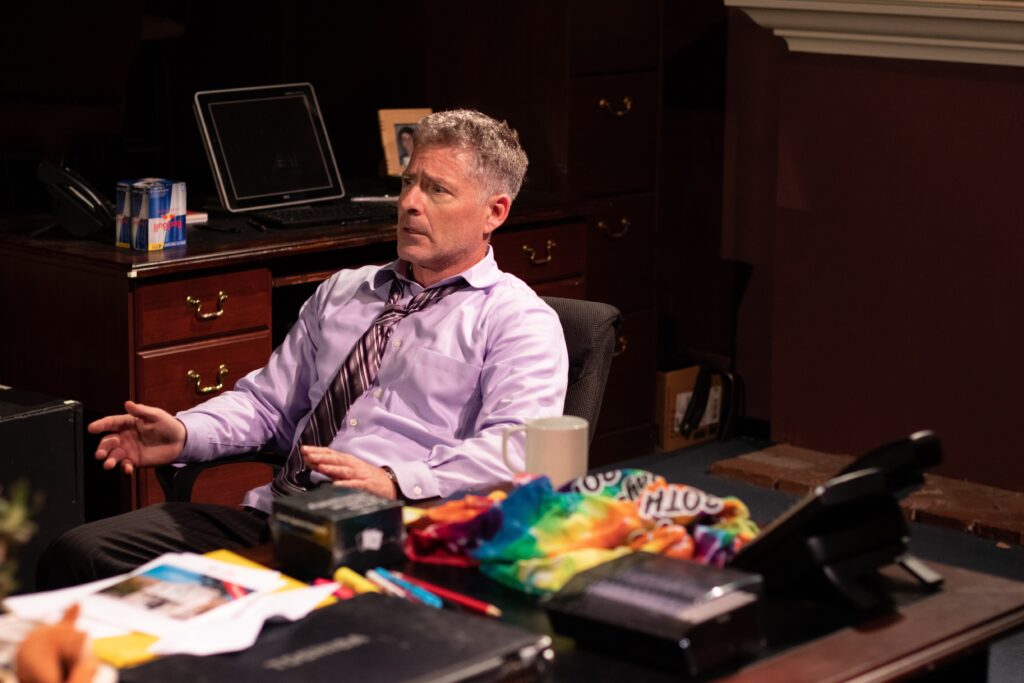 Kolb, Demmary, and Boyd are fabulous in their respective roles. Kolb's Jonathan begins as an understandably angry businessman who fires Elaine for her supposed incompetence. But he soon unravels into a raving maniac as he tries to save his own skin by piling lie upon lie, threatening to drag Elaine and Ginny down with him. Demmary is terrific as Elaine, reveling in her delight at seeing her boss painting himself into a corner as well as schooling the seemingly innocent Ginny into revealing Jonathan's true nature.
Perlmutter's fast-paced (and frequently profane) dialog requires meticulous timing, most notably during the three-way phone conversation, which is handled masterfully. Equal credit for the excellent pacing goes to director Brian Robert Harris, who as an actor knows what he's doing when it comes to emotionally explosive characters. Harris and Perlmutter also came to the brilliant decision to stage the play in the round, setting up a two-tiered set with an office and conference room so that the three characters could execute their dizzying rants around the office space without being restricted to delivering their lines to one wall of the theater.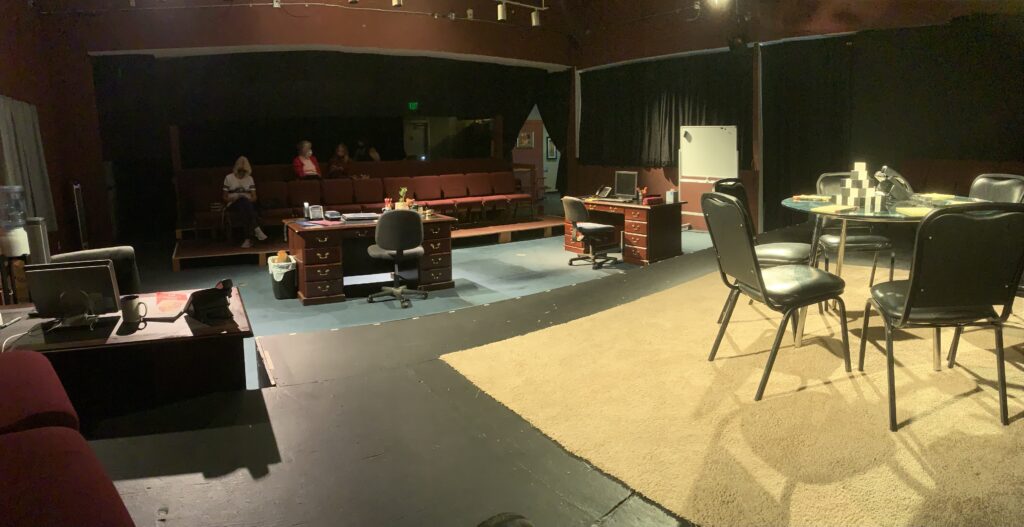 The set design features three desks and a conference room table, with appropriate office paraphernalia, as well as a working laptop computer that is even programmed to have the Matterson's Chemicals home page and website viewable by the audience. The actors' "choreography" works well no matter where the audience is seated, with several rows of chairs on the ground floor and three sets of seats flanking the second tier at odd angles.
Severance Play is a roller coaster ride whose dynamic level starts at fortissimo and pretty much stays that way throughout the play. With Perlmutter and Harris' stimulating and immersive staging, you're bound to have a rollicking good time with this unique and different production.
Severance Play plays through November 21 at the Elite Theatre Company, 2731 Victoria Avenue in Oxnard. For tickets, visit https://www.eventbrite.com/e/severance-play-tickets-182752847687