In 1906, the Spanish-born philosopher George Santayana wrote, "Those who cannot remember the past are condemned to repeat it." Ninety-eight years ago, in the middle of a contentious Republican National Convention, a dark horse candidate that no one ever predicted had the smarts to become president was scheming to win his party's nomination while attempting to hide an illicit affair. Sound familiar? The candidate here is Ohio senator Warren Gamaliel Harding, who later in that year of 1920 would become the 29th president of the United States, presiding over what historians consider to be one of America's most scandal-ridden presidencies. Harding is the subject of Fifteen Men In a Smoke-Filled Room, a new play written by Colin Speer Crowley that is having its world premiere at the Elite Theatre Company in Oxnard. 
If there ever was a reluctant president, it was Harding, a self-described coward who had neither the backbone nor the inclination to fight the people who were manipulating him toward the White House. In Crowley's play, Harding is holed up in a suite at Chicago's posh Congress Hotel as he awaits the decision of the Republican Convention's delegates, who are trying to decide from among a slate of candidates. Under siege from all sides, Harding recoils at the sounds of a marching band outside supporting his rivals while imagining, in a series of eerily prescient radio broadcasts, what his life will be like if he is elected, all the while dealing with his churlish wife, his ambitious campaign manager, and his obsessed mistress. 
In the campaign of 1920, Harding was an 8-1 long shot to get the nomination, his chief rivals being Illinois governor Frank Lowden, California senator Hiram Johnson, and Army general Leonard Wood. On the fourth day of the convention, the delegates were deadlocked between voting for Lowden, Johnson, and Wood, with Harding emerging as a likely compromise candidate, bolstered by the behind-the-scenes machinations of Harding's predatory campaign manager, Harry M. Daugherty. 
Director Angela DeCicco's production deftly balances between casting sympathy and revulsion towards Harding, a weak man with a libidinous nature who had no stomach, no inclination, and no ability for the presidency.  Scott Blanchard does a great job as Harding although he bears no physical resemblance to the former president's craggy, statesmanlike appearance. In his best line – one in a sea of metaphors – he likens his campaign to "a Wells Fargo wagon that leaves pieces of its cargo on a bumpy highway." Harding's lust for his mistress du jour, secretary Nan Britton, is actually underplayed, considering his well-known, limitless promiscuousness (Harding once told reporters, while he was president, "It's a good thing I'm not a woman. I would always be pregnant. I can't say no.") Reign Lewis is outstanding as Britton, who became obsessed with Harding when she was a teenager and had a six-year affair with him, lasting into his presidency. Harding's one redeeming characteristic was his obvious affection for the illegitimate daughter he had with Britton, a daughter he was never able to see because of his lofty position in Ohio politics. Blanchard is at his best in Harding's more human moments, and we sympathize with his longing for an ordinary life as a housebound father.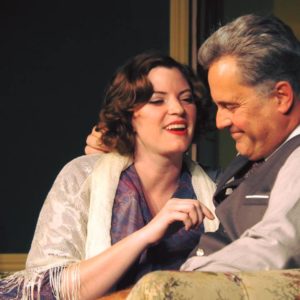 Bill Walthall is terrific as the slimy Daugherty, a backroom operator who would eventually achieve his ambition when Harding named him as his attorney general (Daugherty was later the target of several federal corruption charges and was forced to resign by Harding's successor, Calvin Coolidge.) With gleaming teeth and steely, beady eyes, Walthall resembles noted character actor Ned Beatty, also adept at playing corrupt politicians.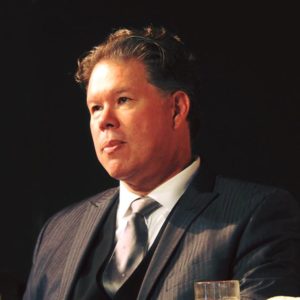 Maybe the best performance of all is by Jill Dolan as Harding's shrewish wife Florence, whose speech is peppered with endless sarcastic metaphors about her husband, who she calls "Chief Sittin' Still." Mrs. Harding's speeches are like a standup comedy routine, and Dolan delivers her one-liners with deadpan contempt. There is no romance in the Hardings' marriage ("Mrs. Harding latched onto me like a bad cold," Blanchard snorts.) It was loveless from the beginning, one of convenience and totally devoid of warmth. Of his marriage, Harding once said, "There isn't one iota of affection in my home relationship. It is merely existence, necessary for appearance's sake." The superstitious Dolan does reveal a crack in Mrs. Harding's crusty exterior, as she expresses concern for her husband after revealing to Daugherty that a clairvoyant foretold of Harding's death in office, should he become president.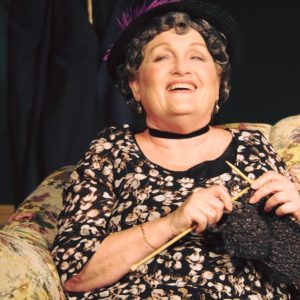 Destiny is the prevailing factor in the story. There is nothing that can stop Harding's ascendancy, as is stated often during the play. Despite the excellent performances by the cast, the play is a little disappointing by the promises it does not keep, as implied by its title. We expect to see the political machinations of the Republican Party machine in action, which resulted in Harding's nomination, but the small cast and confining setting of the hotel makes Crowley's work more personality-driven than a political thriller. The title is employed in Mrs. Harding's dialog when she contemptuously derides the process that will result in the eventual end of her husband's presidency and — his life. Harding died in office in 1923 under mysterious circumstances while on a tour of the western United States. The official cause was listed as "apoplexy" but it was more likely to have been a heart attack, despite persistent rumors over the years that he may have been poisoned. 
The cast also includes Sean Love Mason, effective as journalist/diplomat George Harvey (who would become Harding's Ambassador to Great Britain), Eric McGowan as a decidedly snooty French waiter, and the voice of Allan D. Noel, who delivers the prophetic radio broadcasts. 
In modern day politics, behind-the-scenes tactics and stratagems are no longer restricted to national conventions. Not since the Republican convention of 1980 has there been any doubt as to the naming of the eventual national candidates for president and vice-president. But to those looking for the nostalgia of the way "things used to be," there is no place for romantic musings about the "good old days" of politics. The so-called "smoke-filled room" has since exploded beyond the walls of the confining meeting rooms where political operatives decided the fate of presidential politics. We not only now have an unending litany of state primaries, but also the intervening factors of television networks, social media, biased pundits, and, sadly, even foreign countries that affect our elections. Things may have been simpler a hundred years ago, but they were no less sordid, as this play admirably shows.
*****************************
Fifteen Men In a Smoke-Filled Room plays through September 30 at the Elite Theatre Company in Oxnard. For dates and showtimes, see the VC On Stage Calendar.