After a week of tragedies in Ventura County, during which 12 people died in the Borderline shooting and tens of thousands were forced to evacuate their homes as a result of the Woolsey and Hill fires, it was good to get away to see a show once again, John Kander and Fred Ebb's 1968 musical "Zorba." Based on Joseph Stein's book about a devil-may-care, live-while-you-can hedonist, Zorba arrived on the scene at a time when Broadway's corset was being loosened as shows such as Hair, which featured pot smoking and fleeting nudity, and Cabaret (also a Kander/Ebb show), with its depiction of a sleazy Berlin nightclub in pre-Hitler Germany, were changing the way Broadway shows were being written. 
A staged reading of Zorba took place on Sunday, November 11 at the Alex Theatre in Glendale as part of Musical Theatre Guild's acclaimed series of stagings of rarely seen musicals. Announced from the stage as "the other musical that takes place in Greece" (a swipe at the cotton candy ABBA musical, Mamma Mia!), Zorba was a tour de force for actor Herschel Bernardi, who played the title character, a Greek personification of the spirit of life whose unrestrained embracing of life infects the quaint community where he lives. In MTG's production, the title role was played by the wonderful Michael Kostroff, who has excelled playing outsized, comic characters like M. Thenardier in Les Miserables and Max Bialystock in The Producers.
Kostroff fully embodies Zorba and carries the show, as he should, with a no holds barred exuberance and love of life. Zorba's speech is peppered with aphorisms, most notably, "Life is what you do while you're waiting to die," a morbid pronouncement if you're not living life to its fullest. Zorba does just that; he's a feminist's nightmare who wouldn't last five minutes in today's society without a lawsuit, an Access Hollywood tape come to life, leering and groping women and dancing with uninhibited abandon, but somehow maintaining a charismatic innocence. Playing Zorba in these times of rampant sexual predators is chancy at best, but Kostroff pulls it off splendidly, coming off as a harmless pixie rather than a Harvey Weinsteinian lout. In "The First Time," he explains his carefree philosophy of life, encountering each sensual pleasure as if it were "the first time." It's a joyous celebration of freedom that is intoxicating, as Zorba's personality infects his community of friends as well as the introverted college professor Niko, played by Dino Nicandros, who has just arrived in Zorba's village to investigate a mine he has inherited.
In many ways, Zorba is like Joseph Stein's previous and more celebrated production, Fiddler on the Roof, in which an ethnic community shares festive camaraderie as well as tragedy. Zorba and Niko are direct opposites, as with Max and Leo in The Producers, with the dominating personality (Zorba) teaching the repressive personality (Niko) how to be more impulsive and not worry about consequences. Nicandros's Niko is touching and human as he tentatively pursues the black-garbed Widow (a sensual Tal Fox), who has become a pariah, ostracized by the community for rejecting anyone and everyone's advances.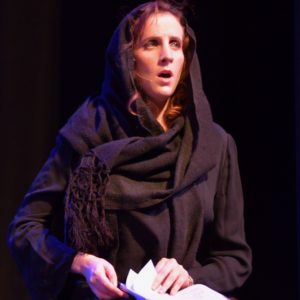 Zorba has a magical effect on everyone in the story, including the Widow, whose passionate spirit is ignited with a fling with Niko, and the aging French courtesan Madame Hortense, whose lust for life is reinvigorated through Zorba's uninhibited passion. Eydie Alyson is terrific as the slightly daffy Hortense, who leads the chorus in the show's most delightful numbers, the casually risqué "No Boom Boom" and the exuberant "Happy Birthday." 
Although Zorba's songs aren't the masterpieces that inhabit Fiddler on the Roof, there are some memorable moments, most notably the trio "The Butterfly," featuring Kostroff, Nicandros, and Fox, a hidden gem that should be performed more often, and the exuberant "Y'Assou," the equivalent of Fiddler's "To Life." Still, the score has a melodic consistency that makes it another in the pantheon of Kander and Ebb scores that can inspire and enchant. Eileen Barnett plays the part of the Leader, who acts as narrator (or the Greek chorus, in the literal sense) in guiding the events detailed in the story.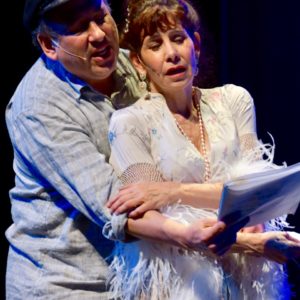 One of MTG's shortcomings is not listing the musicians in Brad Ellis's accomplished small orchestra in the program. Although the group performs with excellence, the use of a mandolin in place of the bouzouki, Greece's most prominent folk instrument, and a melodica, a keyboard played by Ellis by blowing air through a tube, taking the place of the accordion, detracted from the rich Greek flavor of the music. 
With the fires and shootings behind us, the underlying message of Zorba, "I live as I would die at any minute," becomes all the more poignant. Maybe as we recover from these monumental tragedies we should consider heeding more elements of Zorba's philosophy of life.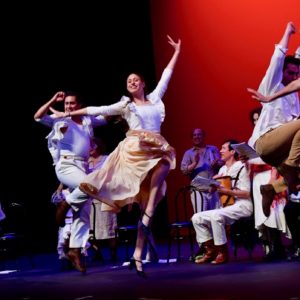 Zorba was directed by Alan Bailey with choreography by Cheryl Baxter. Next up in MTG's 2018-19 season is Minnie's Boys, the musical tribute to Minnie Marx, mother to the zany Marx Brothers. The show plays for one performance only, on Sunday, February 10, 2019. For tickets, visit www.musicaltheatreguild.com.