If you ever get tired of the same old conventional Broadway musicals mounted on conventional stages, it's always refreshing to cleanse your palette by venturing into Los Angeles (if you can stand the traffic) and attending a show at one of the countless 99-seat theaters that honeycomb the area in Hollywood and on the West Side. We took such a trip last week, mainly to see Oak Park High School alumnus Claire Adams, who has embarked on an already impressive acting career after graduating from USC's School of Dramatic Arts. A versatile and supremely accomplished performer, Adams excels in musicals as well as plays and gets to flex both her acting and singing muscles in Violet, a hard-hitting musical about acceptance and self-realization that received a Tony nomination for Best Revival of a Musical in 2014.
Originally staged Off-Broadway in 1997, Violet is based on Doris Betts' novel The Ugliest Pilgrim, a story that takes place in the late summer of 1964 that concerns a young North Carolina woman whose plain features were horribly disfigured by an ax in a childhood accident on her father's farm. Looking for a miracle cure, Violet hops a Greyhound bus bound for Tulsa, Oklahoma where she will be seeking the help of a faith-healing televangelist that she believes will make her scar vanish. Along the way, she meets two servicemen, one white and one black, both of whom develop romantic feelings for her. Their interactions, along with Violet's growing feeling of self-worth, culminate in her showdown with the egotistical preacher, which turns out to be the equivalent of Dorothy's encounter with the sham wizard of Oz.
Violet is presented in a 3/4 thrust format, with the audience seated on three sides of the stage. If this isn't confining enough, the actors begin the show seated on rolling bus benches, which are situated in the front rows of the three sections of seats. Director Richard Israel's vision was to put us on the bus with Violet and the other passengers, in order to closer identify with their personal stories. Black box theaters are noted for doing more with less, since by their nature, they are unable to utilize standing sets or scenery, relying on mobile set pieces and the audience's imagination to further the story. Set designer Nicholas Acciani brilliantly choreographs the placement of the rolling benches, with the actors maneuvering them into different configurations to represent not just the seats on the bus, but to suit the other settings on Violet's journey west, including a Beale Street nightclub, a Kingsport, Tennessee rest stop, and a Tulsa church. Luggage stored underneath the seats are easily removed to be used as chairs or tables in the various scenes that take place off the bus.
Violet is a shallow, naive young woman of 25 who idolizes movie stars and dreams of cherrypicking the desired physical attributes of each for her new face (Gene Tierney's eyes, Ava Gardner's eyebrows, and so on). Wearing minimal makeup, a drab housedress, and scraggly hair, Adams was made to appear as plain as possibly by makeup designer Klint Flowers. Adams' superb acting, effective Carolina accent, and defensive body language do the rest. Although Violet is supposed to bear a disfiguring facial scar, this is not seen by the audience, only imagined (as in The Elephant Man). This offers the audience the advantage of seeing Violet as she really is and not through the distorted prism of the scar. What we see is a callow, ordinary girl embarked on a guileless quest to achieve the impossible.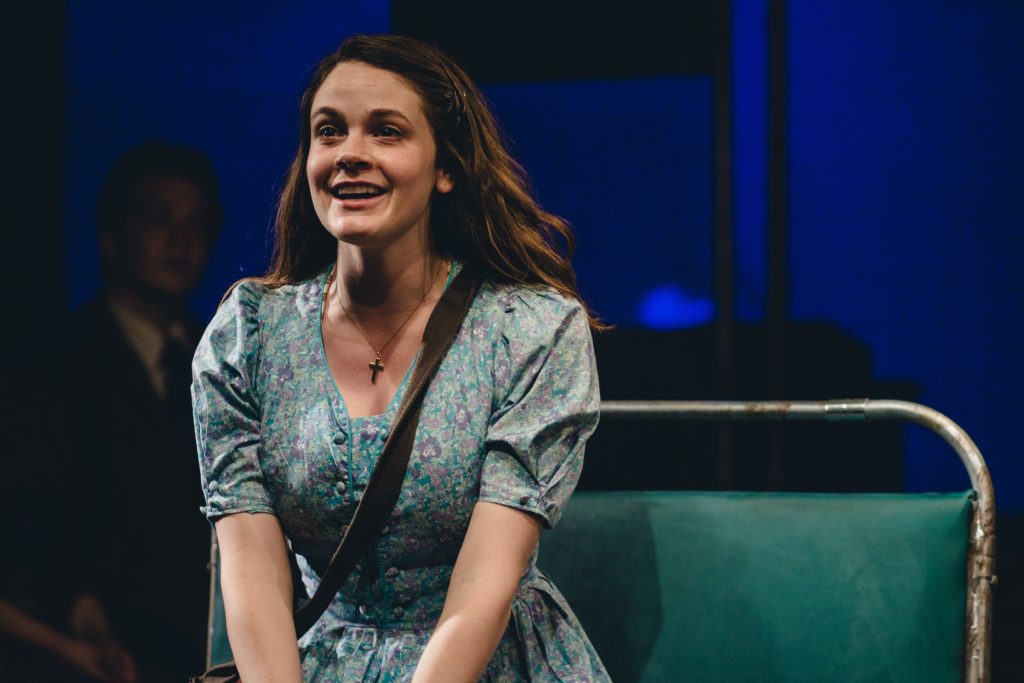 On the bus, Violet meets and is attracted to Grady "Flick" Fliggins, a serviceman who uses the military to achieve some sense of respect as a black man in the racist South, although his race keeps him from being promoted beyond the rank of sergeant. Flick is bitter about the racism he experiences on a day-to-day basis ("Honey, I was born. The rest took care of itself," he tells her.) but fails to be revulsed by Violet's scar and helps her discover her own value as a sensitive, loving human being, much as he wishes for his own true nature to be seen. Jahmaul Bakare is wonderful as Flick, possessing a powerful baritone voice that is most thrilling on the gospel-like "Let It Sing."
Morgan West is equally effective as the other serviceman, Vietnam-bound Monty, who beds down with Violet but sees their relationship as more than just a one-night stand. The show's impressive seven-person ensemble play multiple roles who execute chameleon-like costume changes in the seamlessly changing scenes during the bus trip. Benai Boyd delivers the most rousing number in the show, the inspirational "Raise Me Up," sung by the Preacher's choir during a rehearsal for his television show.
The show makes good use of recurring flashbacks, as Violet interacts with her carefree younger self, beautifully played by Lily Zager, as well as her deceased father, played by John Allsopp. The two appear frequently at the various points on Violet's journey, until we realize that Violet is associating her father, who she blames for her accident, with the Preacher, her redemptor in healing her shame. Eventually, Violet realizes that true healing comes from within, the true message of the story.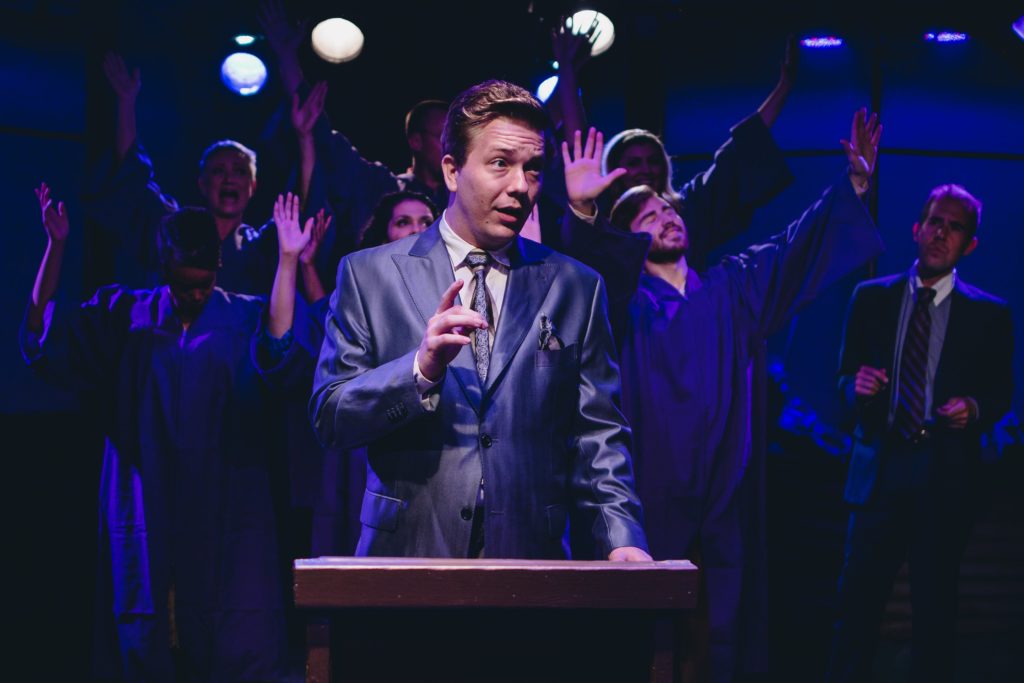 Kevin Shewey does a remarkable job as the dismissive, egotistical Preacher, a slick, silver-suited charlatan modeled after bombastic spellbinders like the Rev. Ernest Angley, who promises miracles, but is ultimately revealed to be a fake, found out even by the easily impressionable Violet. "What am I, a healing jukebox?" the unsympathetic preacher tells her. His confession leaves Violet in tears, and one can easily see how Adams' tears are the real thing, making her exquisite performance all the more powerful. You can't see such acting from 20 rows away.
The score, written by Jeanine Tesori (Thoroughly Modern Millie, Fun Home, Shrek), with lyricist/bookwriter Brian Crawley,  utilizes styles prevalent during Lyndon Johnson's presidency, mainly Nashville Sound country and gospel, which gives the score a wonderfully intimate, localized black-and-white blending of the newly integrated South after the Civil Rights Act. At times, the music resembles that of Roger Miller's Big River, with its gentle, flowing melodies, spare, string-dominated instrumentation, and inspirational gospel numbers. That show also depicted a journey pairing mixed race leading players, as Huck Finn and the escaped slave Jim travel down the Mississippi River. With imaginative staging, a wonderful ensemble, and a sensitively written and directed story, Violet, which was selected as a Critic's Pick by the Los Angeles Times, is an emotionally bumpy ride that eventually reaches its destination.
******************
Violet plays through June 17 at the Crossley Theater on the campus of Actors Co-Op, 1760 N. Gower St. in Hollywood. Ample free parking is available in the parking lot of the First Presbyterian Church of Hollywood. For ticket information, call (323) 462-8460.