Rodgers and Hammerstein's South Pacific, the acclaimed 1949 musical culled from James Michener's collection of short stories about the war against Japan during World War II, is not only R&H's most successful show (it garnered eight Tony awards plus the Pulitzer Prize), it is simply one of the greatest musicals ever written. A show with as formidable a history as that makes it a challenge for any company to produce. Its sweeping score and exotic locale are all but unimaginable on the small stage, but undeterred, the Rubicon Theatre Company took it on, having succeeded with "large-scale" musicals on its quirky small stage before (My Fair Lady, In the Heights, and West Side Story) in recent years. Director Katharine Farmer has succeeded by delivering a beautifully produced, ravishing production of the show that runs the gamut of emotions, from the passionate romance of its mismatched lead characters to the ribald humor of the Seabees and the tragedy of its secondary love story.
The intimacy of the Rubicon's oddly shaped stage worked to Farmer's advantage. Set/lighting/projection designer Mike Billings built a versatile, modular set that perfectly evokes the lush Polynesian island where the action takes place, complete with vine-covered trellises and pop-out set pieces, all topped off by Cinerama-styled animated projections above the set depicting everything from wafting palm trees and golden beaches to bombers flying overhead and the ghostly image of the beautiful but perilous Bali H'ai island in the distance. The cumulative effect works wonderfully to make the theater appear larger than it really is. 
Condensing South Pacific to the tiny Rubicon Theatre requires, as in its production of My Fair Lady, an equally reduced orchestra, which has been simmered down to two pianos, played with elegance by Brent Crayon and Jen Oikawa. Although the pianos don't do the majestic overture justice, the lack of strings, woodwinds, and horns is quickly forgotten once the story begins to unfold.  
Playing the central role of Ensign Nellie Forbush, the self-described "normal as blueberry pie" Arkansas hick, is Madison Claire Parks, who possesses a quick, birdlike vibrato that is uniquely compelling, especially when paired with the robust basso of Ben Davis, perfectly cast as the dashing expatriate French plantation owner, Emile de Becque. The two lead characters were cast as opposites by Rodgers and Hammerstein to emphasize their different backgrounds. (Until the reprise of "A Wonderful Guy" in Act II, they don't sing in harmony together; they just alternate lines.) Davis' rendering of the show's signature love song, "Some Enchanted Evening," is richly and emotionally sung and unabashedly romantic. After nearly 70 years, this glorious song still has few rivals as musical theater's most ravishing expression of love at first sight. Davis also delivers the aching "This Nearly Was Mine" with emotional power, as he mourns the loss of his relationship with Nellie after she rejects him for having fathered two children with a woman of another race.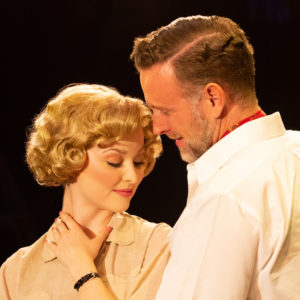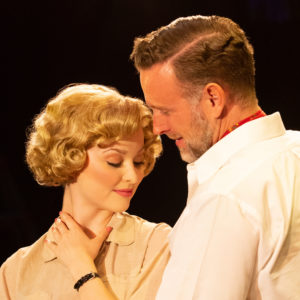 The secondary, tragic love story between straight-laced Lieutenant Joseph Cable and the exotic Tonkinese girl Liat is touchingly portrayed by Alex Nee and Jamie Yun. Cable sings the acerbic "(You've Got to Be) Carefully Taught," which decries the racism he and Nellie inherited through their respective upbringing. 
Comic relief is provided by the enterprising Seabee Luther Billis and Liat's mother, the calculating Bloody Mary. Billis is fabulously played by Kirby Ward, who adds a touch of softness to his coarse exterior, especially in his obvious affection for Nellie. We feel that in another time and place, Billis might have made a play for Nellie himself, but realizes he is not in her league and has to be satisfied with treating her with loving respect.
Jodi Kimura gives an absolutely hypnotic performance as Bloody Mary. When she sings the score's most evocative song, "Bali Ha'i," which begins with its famous octave jump and descending semitone, the spotlight illuminates not her, but Nee as Cable. His nuanced reaction, as he is frozen by its hypnotic effect, is what makes the intimate, small theater experience different than if it were sung in a 1,200 seat theater. The "Bali Ha'i" sequence is the most captivating scene in the entire show; a siren's song of mystical power. Since the audience's eyes are fixed on Cable, one barely notices that the image of the "special island," depicted on the projection above the set, is actually getting larger as the song progresses. The power of this scene implies the inexorable pull the island has on the sailors; for Billis, it's the promise of unfathomable wealth due to its natural resources, which he hopes to turn into cold hard cash, but for Cable, it's an aura of forbidden mystery, which eventually will lead to his doom.
Andy Umberger brings added humanity to the normally colorless role of island commander Captain George Brackett, another example of the close proximity of the audience revealing extra dimension to the show's secondary characters. The Seabees and nurses are still basically glorified ensemble players, but all do a fine job within the restrictive space allotted to them in such production numbers as "There Is Nothing Like a Dame," "I'm Gonna Wash That Man Right Outa My Hair" (with a working on-stage shower), and the Thanksgiving Follies dance at the beginning of Act II.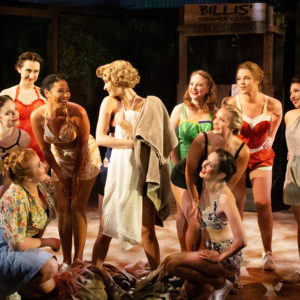 Ian Nunney and Isabella de Los Santos play de Becque's adorable children and are convincing when they sing the French-tinged "Dites-Moi." The ubiquitous Joseph Fuqua (what would a Rubicon production be without him?) does a solid job as Captain Brackett's adjutant, Commander Harbison. Marc Ginsburg, a familiar presence in Ventura County theater, makes his Rubicon debut with a fine turn as carpenter's mate 2nd class Stewpot.
Despite the power of its score and the continuing relevance of its story, South Pacific isn't seen often enough anymore, certainly much less than its more famous cousins, Oklahoma! and The Sound of Music, which get periodic stagings every few years or so in both community and professional theater. Rubicon's lavish, beautifully acted production reminds us what an important, extraordinary show it is, and this production is likely to be remembered here for many years to come. 
*******************
South Pacific concludes its run at the Rubicon Theatre Company on December 23.