"Larger than life" is a description that is overused in show business, but this is not hyperbole when it comes to legendary vaudeville entertainer Sophie Tucker (1884-1966). Famously promoted as "The Last of the Red Hot Mamas," the flamboyant, bawdy Tucker was born in Czarist Russia as Sonia Kalish in 1884. Her family escaped Russia after Sonia's father was inducted into the Russian army, with Sonia being born while they were en route to Poland.  Sonia's father had made friends with an Italian immigrant named Abuza and so the Kalishes adopted that surname to ward off any pursuing Russian army "recruiters."
Upon arriving in America, Sonia became Sophie Abuza. When she was sixteen, she married a man named Louis Tuck, but the couple separated shortly afterward. By this time, Sophie was already working as a singing waitress, taking on the professional name of Sophie Tucker. In Connecticut, she made friends with vaudeville entertainer Willie Howard, who encouraged her to seek her fortune on Broadway. It was Howard who first made famous the song "My Yiddishe Momme," which Tucker would turn into a hit herself in the mid-1920s. During the first decade of the 20th century, Tucker worked in blackface, forced to sing so-called "coon songs" by theater owners because of her large frame and unglamorous features.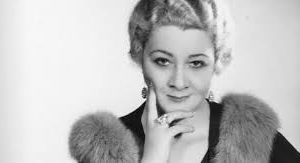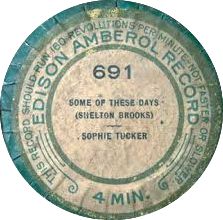 In 1909, Tucker was spotted by talent scouts employed by impresario Florenz Ziegfeld and made her debut in the third edition of Ziegfeld's famed Follies revues. In 1910, she appeared in the play Lulu's Husbands and shortly after that, began headlining in the productions Louisiana Lou and Merry May. She struck it big for the Edison record company in 1910 by recording the first of many versions of her signature hit "Some Of These Days." As Tucker moved out of the world of minstrelsy, she nevertheless retained that world's "coon songs," highly offensive numbers that accentuated stereotypes of African Americans, an accepted part of the entertainment industry during those days. 
Tucker made records prolifically between 1918 and 1937 but rarely appeared on Broadway. She appeared in only five Broadway musicals throughout her long, 50-year career, beginning with The Ziegfeld Follies of 1909 and ending with High Kickers in 1941. Tucker was even more scarce in her film career, starring in only one movie, 1929's Honky Tonk. Her career remained in vaudeville and later, nightclubs, a potent combination of music and risque comedy, a combination of Bessie Smith and Mae West, heavily seasoned with Yiddish mannerisms and dialect. Tucker fit well within the hot jazz renaissance of the 1920s, recording an exceptional version of "After You've Gone" with trombonist Miff Mole and guitarist Eddie Lang's combo. She retained her popularity after electrical technology entered the recording industry in 1925, telling listeners to "come get your hot stuff from this volcano." 
Tucker started referring to herself as "the last of the red hot mamas" in 1923 and 1924, utilizing lighting and paper "flames" to imply that she were actually on fire while she performed. In 1928, Jack Yellen wrote "I'm the Last of the Red Hot Mamas" for Tucker, one of many songs Yellen and his partner, composer Milton Ager, wrote for her during her career. 
A giant of the early years of show business, Sophie Tucker anticipated the women's rights movement with her take-no-prisoners, saucy on-stage persona. She continued performing into her 70s, appearing on American television shows like The Hollywood Palace into the 1960s, making her final appearance in England a year before she died in 1966 at the age of 82. 
Tony Award nominee Sharon McNight's one-woman show chronicles the life and career of Sophie Tucker, featuring music from her legendary career in burlesque and vaudeville. The Los Angeles Times raved about McNight, calling the show "the performance of a lifetime," describing McNight as "belting with crystal-breaking authority and then pulling her readings down to intimate, hypnotically compelling whispers." The show features over two dozen songs, written by giants from the Great American Songbook, including Cole Porter, Irving Berlin, George & Ira Gershwin, and of course, her most favorite songwriter, Jack Yellen. This is bound to be an unforgettable performance so we highly recommend you make the trek to Ventura to see it. 
**********************
Red Hot Mama: The Sophie Tucker Songbook plays for two performances only at the Rubicon Theatre Company in Ventura: Saturday, January 19 at 8pm and Sunday, January 20 at 2pm.