Two faces familiar to Ventura County audiences will be performing dream roles when they debut in Ragtime, which plays from February 10 to March 3 at the Pasadena Playhouse. Both Shannon Warne (Mother) and Marc Baron Ginsburg (Tateh) have been seen in productions by Cabrillo Music Theatre and 5-Star Theatricals but were both excited to have been cast in Lynn Ahrens and Stephen Flaherty's landmark show about immigration, racism, and vigilantism in early 20th century America. We had a conference call with Shannon and Marc prior to previews for the show beginning this week.
VCOS: I know that both of you are excited about doing Ragtime but I wanted to ask something about it first. There are "shows" and there are "shows-that-I-would-kill-to-be-in." Is Ragtime one of those shows?
MARC: This is definitely one of the shows that I've been waiting to do for the better part of 20 years now. That is the truth. I saw the original cast on Broadway not knowing anything about it except for knowing a handful of the performers who I really admired. But I was really drawn to it and had to go back and see it three more times because I was just blown away and moved by it, and it was funny and timely, but it was almost never untimely because things have been this way for such a long time and it was such an important piece then and now. It was just something I couldn't wait to do and now that I'm able to do it at the Pasadena Playhouse with a cast full of incredibly talented performers who also happen to be friends is something I wasn't expecting so I'm so happy and proud to be a part of it. 
VCOS: Did you have your eye on playing Tateh or did you just want to be a part of it?
MARC: I just wanted to be a part of it but the second the show started, I saw this passionate Jewish man who has such a powerful heart and wears his emotions on his sleeve and such a deep love for his child, and I said, "I have to play this guy. This is a once in a lifetime kind of role. As I grew up, thankfully not in the same way – I never knew his struggles, fortunately – still, I know this guy, I feel like I really connect with this character in that he's a strong, Jewish man with a lot of passion and emotion and deep love for his family. So it's a story I've wanted to tell for a really long time.
VCOS: Shannon, how about you? Tell me about Mother.
SHANNON: Oh, goodness. I used to listen to the concept album when it initially came out and then heard the cast album and for years after that, my ex-husband and I used to ride around in the car and actually sing as Sarah and Coalhouse. 
MARC: I did that, too.
SHANNON: None of us had any business singing those roles and even though I was drawn to Mother, I never expected that that was a role that I would play, but when this opportunity came up, I'll have to be honest, I just claimed it. I said out loud, about as loudly as I could, "This is mine." I left that first audition and said "This is mine." So I held onto that. At this point in my life, not only because of what's happening in the world, but in how I relate to Mother's story, now being a mother myself and having had a personal awakening very similar to hers, I feel that this could not have been better timed. And as Marc was saying, I am so deeply grateful to be presenting this very important, very poignant story and to be doing it with these unbelievably talented and kindhearted, hard-working individuals, and that goes for our cast, our staff, and every single person on our crew. Everyone is POURING themselves into this project because we're passionate about the content and what we get to do as professionals in the world of theater. It's really been a labor of love.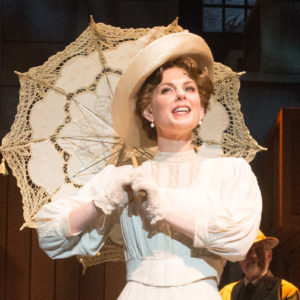 VCOS: You said that you had a "personal awakening" that made you relate to this character. Can you talk about that?
SHANNON: I got married at a really young age and had certain ideas about who I was and who I was going to be and I think it wasn't until five years ago when I realized that I was going through a growth period emotionally and I needed to expand my thinking, how I looked at the world, and how I saw myself in the world. So there was a lot of transition in my life at that time and Mother has a similar awakening where she has an opportunity to start making choices for herself, and in doing so, comes to know herself in a new way, and at a certain point, decides not to go back to the way things used to be. And either Father can come with me or not. 
VCOS: It's a generic role because Mother doesn't have a name, so she is representing a change in how women of that period were starting to think of themselves in a different way, isn't that right?
SHANNON: David (director David Lee) and I talked about this the other day and I gave it a lot of thought when I was initially reading the book – I read it a few times, the E.L. Doctorow novel – and I think because Mother, Father, Grandfather, Younger Brother, and the little boy are archetypes of the time and I think really they are a reflection of that particular cultural pocket in America at the time. You could have peeked into just about any home on their street in New Rochelle and probably see something similar play out. If you take a look at it, really, the little boy has a name, Edgar, and there are people in the cast who say that he is a throwback to Houdini as a boy, but besides the historical figures in the play, and Sarah and Coalhouse, even Tateh is generic. We call him Tateh but "Tateh" means "father." So that also is an archetype. So there's a special something there that shines a spotlight on Sarah and Coalhouse and what their journey is. 
VCOS: No matter how old Ragtime gets, it always seems to be relevant. When you're in performing mode, are you able to block out things that are going on in the news or in your personal live, or do you use that to help in your performance?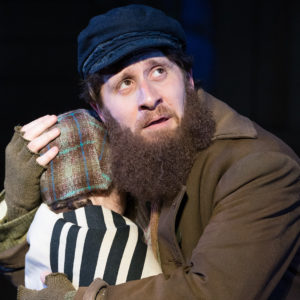 MARC: From my standpoint, it would almost be a disservice to the people who are going through what is happening today to completely block it out because it may not be exactly the same but it is just as relevant today as it was in the early 1900s. Clearly, we have, without getting too political, an ongoing discussion about immigration and Tateh and the other immigrants are coming to America looking for the American Dream, and were essentially spat upon and put in the worst parts of town. Tateh walks around with a rope tied around his daughter because he is terrified of losing her, having someone steal her from him. To be separated from your child in a brand new country sounds like the worst possible scenario I can ever imagine. Clearly, we have a lot of that that has been going on lately. I don't mean to minimize what these people are going through by saying I'm going to use your pain and sorrow to help my performance, but at the same time, it almost feels like a disservice to them if I didn't tap into it in some way. We're not only telling the story of what happened then, but we're telling the story of what's still happening now and trying, as painful as it is for us and the audience to go through, to show how relevant and topical it still is. So what it's saying is "let's be better in the future" and make sure these things never happen again. It was an awful time in our country's history and it's just as painful now. 
SHANNON: I agree with what Marc says and as actors in the theater, especially with a piece like this, our job is not only to entertain but to educate and to shine a light on issues of today when possible and at least get a conversation started. As far as an acting approach for me, everybody's different. I don't stand on stage and think about a story in the news to conjure up any feelings, but there are moments in the show that hits me on a subconscious level. For example, there's a line in the show where I say, "It will happen again and again and again," referring to an issue that has kept occurring. So I can't help let that land on me every night. It's not something I consciously try to do, but in some ways, it's unavoidable. But also, as an actor, all of the things we feel about what is happening around us today, if we allow whatever that energy is, I can draw from that without consciously think of a particular face, name, or event. 
VCOS: Now you are both parents and this show has a lot of disturbing themes and images in it. Have you thought about what age would be appropriate for your child to see this show, given the importance of the messages that are in it?
SHANNON: I think that it varies, depending on the individual child. My son is ten years old and he will be coming to a matinee. His dad and I are taking the time to discuss with him the topics of the show, to have conversations with him about some of the issues that are in it, and also keeping the conversation open so that when he sees the show and something is upsetting for him, we'll absolutely be receptive to talking with him about it. But he has absolutely the personality that will receive this really well. There may be ten-year-olds who just wouldn't be interested or won't be able to take some of the content, and that's OK too. Each parent has to decide that for themselves.
MARC: I agree 100% with that. I don't have to think about with my son, he's only two-and-a-half so he won't be attending. But having said that, I've thought quite a lot about when I would want him or think he's ready to see a show like this. We're a very open family and both the family I grew up with and the the family I'm starting now, we've always talked about situations like this and especially in the arts. My parents were never shy about taking me to see shows that had disturbing or controversial content, so I like to think that when we feel he is ready, we will be absolutely open to sitting down and having a conversation about it. It's all well and good to entertain people and have the audience go home singing the songs, that's fantastic, and we need that in our lives, but at the same time, I feel like the world would be a more enlightened place if we could take a minute to be affected by something in an educated, respectful, and civil way, especially with people whose opinions we disagree with. 
VCOS: Every show has its ebbs and flows and this show certainly has its share. I was wondering if each of you can identify a moment in the show where the emotional crescendo peaks for you.
MARC: For me, mine happens very early in the show. There's an eight-minute long sequence called "Success" where Tateh and his little girl get off the boat and he's talking about how successful he's going to be. He's only an artist selling pictures on the street right now, but you can start with less and make a success is what he sings. So you see his excitement and his eternal optimism. Then, a couple of months later, the weather has turned cold, he's still out in the streets, and they're freezing to death. They're making no money and his daughter is sick, and they have no prospects. And the straw that breaks the camel's back is the only financial proposition that comes his way is when a guy comes buy and wants to buy his child from him. It's just such a raw moment for him and for myself and it really hits me hard, every time I do it. So he wonders, where is this American dream that I've heard so much about? Was it a lie? Or will I have to go and find it somewhere else? It's a really tough moment, especially when you think how hard it is being on the streets by yourself, but when you have a child with you and see them suffering, it hits so close to home in such a tough way, that's definitely a moment where I struggle to keep it together, every single time.
SHANNON: There are two big pivotal moments for Mother. I don't want to give it away completely for those who aren't familiar with the show, but the first time is when she has to make a major decision on her own. She could very easily to do what Father would tell her she should do but she chooses another route and listens to her instincts and her heart. So she makes that choice, and as the show progresses, she could still choose to go back to the way things were because it's comfortable and feels safe. But by the second act, she decides to continue moving forward rather than backward and tries to figure out how to have this conversation with Father, which results in the song "Back to Before." 
***************************
Ragtime plays at the Pasadena Playhouse from February 10 to March 3. For ticket information, visit www.pasadenaplayhouse.org or by calling 626-356-7529.