In Douglas Carter Beane's 2013 revamping of Rodgers and Hammerstein's classic musical version of the "Cinderella" fairy tale, apparently, the magical transformation of a ragamuffin house servant into a glistening princess wasn't enough, so in accordance with Broadway's appetite for new audiences, additional plot obstacles were inserted to prolong the inevitable happily-ever-after ending with socially conscious MacGuffins. 5-Star Theatricals' new production of the musical tries hard to play all sides of this convoluted, self-conscious revision, but in the end, we're not sure what this show wants to be. Is it satire? Is it farce? Well, it's certainly not Grandma's "Cinderella."
Fairy tales have always worked on Broadway because they enable audiences to escape from reality and bring the kiddies along for the ride. On opening night, numerous tiny tots, bubbling with enthusiasm at the prospects of seeing the classic storybook romance unfold on stage had to sit through talk of soup kitchens and political chicanery in order to get to what they came to see: a handsome prince engaging in what is essentially an episode of The Bachelor, in which he becomes infatuated with a masked ball-crasher who loses her glass slipper only to see her snatch it up and whisk off stage with it at the end of the first act. Wait. . .what? How is Prince What's-his-name going to find her if he doesn't have any physical evidence that she even existed? Stay tuned for Act II.
5-Star's production does a good job sorting through this irreverent mess with some stellar performances but it's hard for the motor of this herky-jerky adaptation to get revved up because so many new characters are being introduced. First we have Jean-Michel, a fairy tale version of Perchik from Fiddler On the Roof, played by Frankie Zabilka, who is plotting a left-wing overthrow of the authoritarian kingdom ruled by Prince Topher (a more informal reduction of "Christopher") and his Steve Bannon-like adjutant, Sebastian (sneeringly portrayed by Kevin Bailey. All he needed was a handlebar mustache to twirl). In R&H's original 1957 television production, which starred Julie Andrews, a simpler kingdom is being run by a King and Queen, but in Beane's version, these royal types are dead and their son, the prince, who has all the earmarks of a soft-hearted tree-hugger, expresses a desire to get to know his constituents and ends up staging a coup to turn the kingdom into a democracy. As Topher, Tyler Matthew Burk is outstanding, deliberately playing him as a non-imperious ruler with a heart of gold, making him a pushover for the charms of the sweet-natured Ella (the reduced name of Cinderella), played with winsome attractiveness by Camryn Hamm.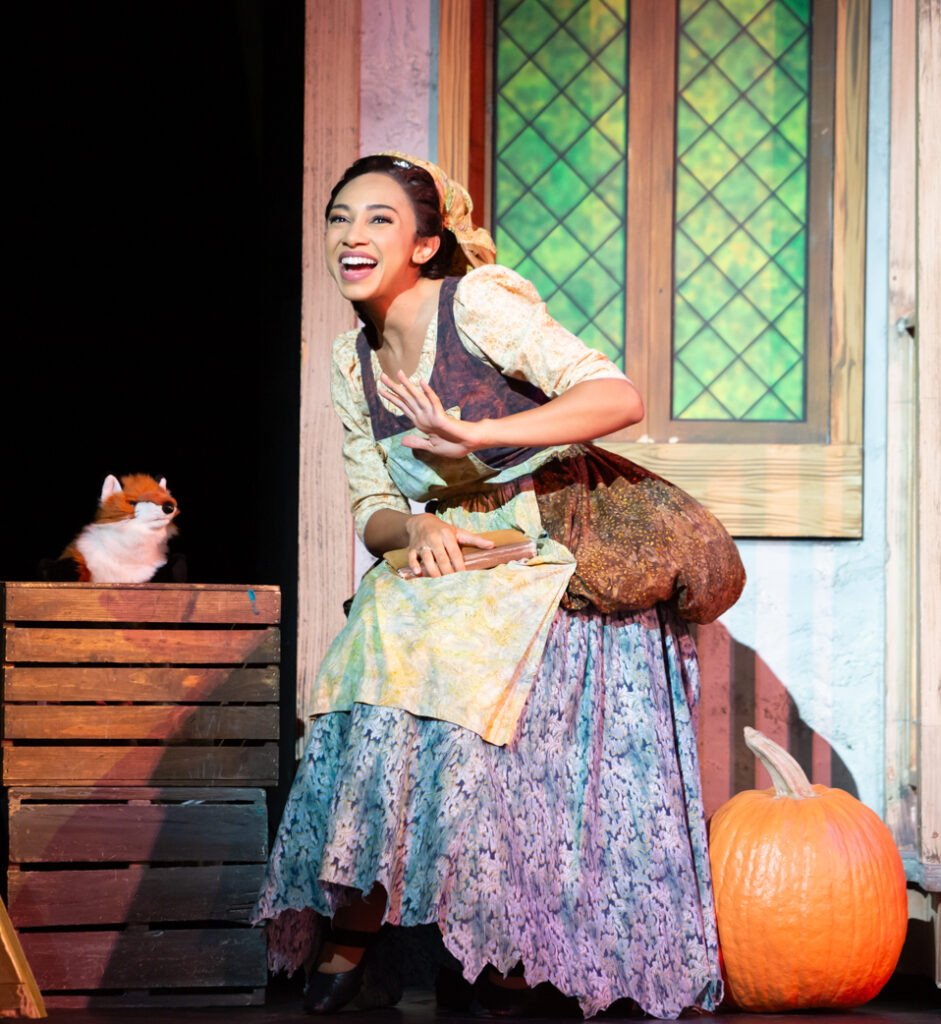 The Fairy Godmother is now a reveal character, disguised as a nagging beggar woman named Crazy Marie, á la Sweeney Todd, played with relish by Regina A. Fernandez. If that isn't enough to confuse the kiddos, Cinderella's abusive stepmother is now only known by the name Madame, which almost makes Cindy's household resemble a brothel, as Madame is intent on pawning off her garish daughters, now named Gabrielle and Charlotte (changed from Portia and Joy) on rich suitors.
Madame is played to screeching perfection by the uproarious Emily King Brown, a come-to-life cartoon character who is so annoying, it's a wonder why her three daughters don't flee the coop and get a condo together. Charlotte (played to the hilt by Kelsie Kiana Piini, who is coiffed with a ridiculous five-sided hairdo, remains silly and slovenly (as all stepsisters should be) but Gabrielle (played with great humor and gawky charm by six-foot-tall Sarah Hinrichsen) becomes Ella's confidant and gal-pal, who develops a crush on (remember him?) good ol' Jean-Michel.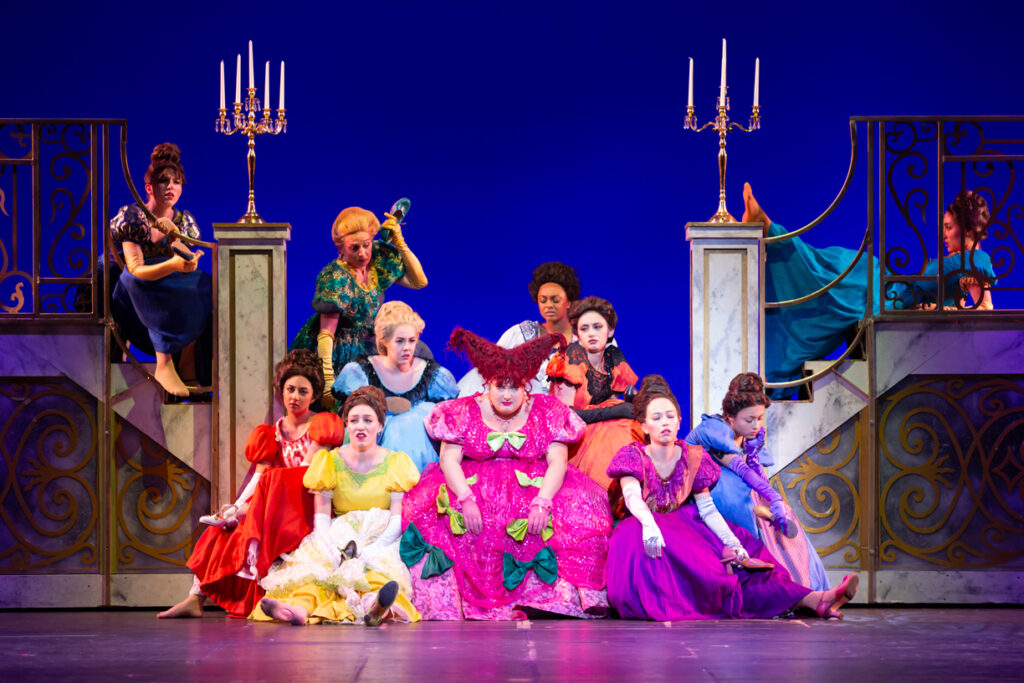 It's enough to make the Brothers Grimm even grimmer. Enterprising Broadway fans should bring a scorebook to the theater to keep track of all these extraneous characters. Despite winning performances from everyone, the best goes to Landon Starkman as Lord Pinkleton, the prince's herald and gofer, who gets his own showcase, the song "Your Majesties," in which the servants plan the party for what was originally Prince Christopher's 21st birthday party. In Beane's revision, the event is instead a "wag-the-dog" distraction, a banquet meant to prevent the muttering constituents of the kingdom from staging a revolt. Starkman breathes life into what is basically an auxiliary role and commands attention with his strong tenor and lithe movements whenever he is on stage, something he has been doing since he was a student at Calabasas High School.
The "magic" turned in by wardrobe supervisors Gail Garon and Chris Steele are basically gathered dresses that are turned inside out in a flash, making Ella and Crazy Marie's respective transformations seamless and elegant. (Ella's bulging bustle in her transformation looks more like a life preserver, but it served its purpose well.)
All in all, director Yvette Lawrence keeps the action moving with a fresh eye and keen stage direction, utilizing the entire stage while Cheryl Baxter's acrobatic-intensive choreography (which included some flying effects by ZFX) was fun to watch. Especially impressive were the anthropomorphic Fox and Raccoon, played by Luke Pryor and Aaron Camitses, whose flips, leaps, and tumbles were Olympics-worthy entertainment.
A couple of minor quibbles on opening night. At the masked ball, Cinderella enters without a mask, making one wonder: #1 – How did she get past the bouncers? and #2 – If Topher stared at her unmasked face throughout the whole ball, how come he couldn't recognize her when he saw her in ragged clothes at Madame's house the next day? And finally, in Rodgers and Hammerstein's famous "I Am" song, "In My Own Little Corner," why is Ella sitting on the floor when she sings "In my own little corner / In my own little chair / I can be whatever I want to be."? During the song she finally gets up, goes over to the front porch of her house and sits on. . . a barrel. Hey, stage manager! Get this poor girl a chair!
**************************
Cinderella plays through July 23 at the Bank of America Performing Arts Center in Thousand Oaks. For ticket information, visit 5StarTheatricals.com.