FROM THE ARCHIVES:
"THE HALF OF IT DEARIE, BLUES" – Fred Astaire with George Gershwin (April 20, 1926)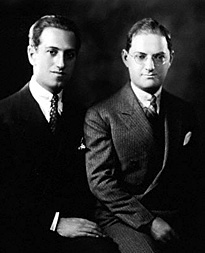 In December 1924, one of the most important events in Broadway musical history occurred when George and Ira Gershwin collaborated on their first hit show, Lady, Be Good! That year also saw the premiere of George Gershwin's "Rhapsody in Blue" at a historic concert in New York's Aeolian Hall featuring Paul Whiteman and his Orchestra and Gershwin at the piano. But now Gershwin was conquering Broadway, utilizing the lyric-writing genius of his older brother Ira for the first time. At 26, George Gershwin had already written some 200 songs, but something clicked when Ira joined him; the two introduced a new, jazzier kind of theater music to Broadway, with Gershwin's genius for melody combined with Ira's whimsical, literate, and witty words. 
Lady, Be Good! opened at the Liberty Theater in New York on December 1, 1924 and played until September 12, 1925.  The cast featured the new brother-sister dance team, Fred and Adele Astaire playing Dick and Susie Trevor, (surprise) a brother-sister dance team. Dick and Susie are broke and can't pay the rent so they crash a party of wealthy socialites, hoping their luck will change. The lighthearted story is the backdrop for the Gershwin brothers' bevy of memorable songs, which included "Fascinating Rhythm," "Hang On to Me," "Little Jazz Bird," and the title song.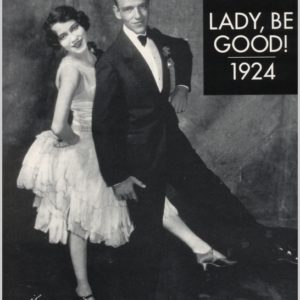 On April 14, 1926, the show moved to London, where it opened at the Empire Theatre in the West End, again starring the Astaires. The show was a huge hit, playing for 326 performances and making international stars of the Astaires and the Gershwins.
The week the show opened in London, Fred & Adele Astaire and George Gershwin went into the studios of Columbia Records in London to record versions of four of the songs from Lady, Be Good! On April 20, they recorded "The Half Of It Dearie, Blues," which was sung in the show by Fred Astaire as Dick Trevor and Kathlene Martyn as Dick's love interest, Shirley Vernon. The recording featured Astaire not just singing but tap dancing, with Gershwin providing a sprightly accompaniment. One can hear echoes from Gershwin's "Rhapsody in Blue" and "An American in Paris" (which he would not write until 1928) in his virtuosic piano playing. At one point in the recording you can hear Astaire yell, "How's that, George?!" during his tap routine, to which Gershwin responds, "That's very pretty!"
The session proved to be the only time Astaire and Gershwin recorded together. Gershwin died tragically of a brain tumor in 1937 at the age of 39 while Astaire became a film musical icon during the 1930s. He died in 1987 at the age of 88. Click on the audio bar underneath the record image to hear the recording.