At 25, most actors and actresses are striking out on their own, many, if they were lucky, having graduated from prestigious theater arts schools, while others are constantly networking and auditioning, hoping to land paying acting jobs. The life of an actor can be defined by one word that is common to everyone in their profession: uncertainty. Even the most successful performer knows that careers can end for any reason or no reason, so they keep plugging away. 
Katie Hume, however, has found a way to defeat the uncertainty of being a theater performer. Three years ago, she started Golden Afternoon Princess Parties, a fairy tale character company located in the San Fernando Valley, specializing in performing for children's princess parties, birthday parties and special events in the Los Angeles area as well as in Ventura County. Katie has her own cast of princesses who work for her, some of whom, like Adele Panico and Kayla Bailey, are familiar presences on Ventura County stages.
Hume grew up in Porter Ranch, attending Hamilton High School in West Los Angeles and receiving her BFA in Musical Theater Performance from Western Michigan University, where she actually got the idea for her company. She has made a variety of appearances on Ventura County stages, performing in Fiddler On the Roof and The Importance of Being Earnest (Simi Valley Cultural Arts Center), Evita (Cabrillo Music Theater), and The Fantasticks (Panic! Productions). This spring she will be performing in 5-Star Theatrical's The Hunchback of Notre Dame. 
We spoke with Katie about her company and her ability to take character portrayal to a new personal level with audiences.
VCOS: When did you get the idea to do the Princess Parties?
KATIE: I started doing this in college in Michigan for a different company and loved doing it, although I didn't expect to. Then when I came home I thought to myself, "I have to keep doing this" because I loved it so much, so I applied to a few places, but I didn't know which ones were good or where they were. So eventually I decided to do it myself. 
VCOS: Is your Princess Parties venture your primary profession now?
KATIE: No. During the week I teach elementary school kids with an after school enrichment program. I teach chess and origami, those are the specific subjects. I was into chess at an early age and the coolest part about it is that I actually went through the program that I now work for. They came to my elementary school and I got super into it right away. I started signing up for chess clubs, I took private lessons, and I went to tournaments every Friday night. So I'm now training a new army of chess ninjas. 
VCOS: Did you ever have Broadway as a distant goal, like many young performers do?
KATIE: Yes, but my goal is more general than that. I just want to go everywhere, work in a bunch of different places, Broadway definitely, but my ultimate goal is to do this at as many places as I can. 
VCOS: How much does it cost to introduce a new princess to your cast?
KATIE: It's hard to do and based on if I have enough interest in it. Investing in a character usually costs somewhere between $500 and $1,000. 
VCOS: What does that involve?
KATIE: Costumes, wigs, props, accessories, and then finding performers and training them. 
VCOS: How many actresses do you have working for you?
KATIE: About ten. 
VCOS: Not including yourself?
KATIE: Right. I try to do the parties myself as often as possible. My favorite aspect of the job is performing. One thing that I did when I started the company was to try and base it on the aspects of performing that I value the most, and for me, singing is the highest priority. I try to hire as many professional singers as I possibly can. Those who aren't professional level can still sing pretty well; my goal is to have them sound like they just stepped off of a movie screen from the film or TV show that character was in. 
VCOS: And I assume you use recorded tracks at these parties?
KATIE: Yes, we use instrumental tracks and a little bluetooth speaker. I just invested in a bigger P.A. system for larger events. 
VCOS: Tell me something about the costumes you use.  
KATIE:  I sort of go for traditional princess costumes and then put my own twist on it. So we have these glamorous, one-of-a-kind dresses that we use. My main costumer used to make elaborate wedding gowns and prom dresses so he is able to do variations on the familiar outfits these characters are associated with. 
VCOS: Aren't princesses generally kind of homogeneous? Not too much depth? How do you flesh your characters out so that they not indistinguishable from one another?
KATIE: It depends on how you want to approach it. Many of them are similar, but I find that to make any character believable and genuine, you have to add a little bit of yourself into it. I'm a little bit goofy, I'm funny when I do parties, so I bring that to a lot of different characters. I love all my performers because each one brings something different to the table. I have some who are pageant queens, I have models and opera singers and some who are just really off the wall funny. I have one who I actually met when I was doing The Wizard of Oz in Glendale. She was interning there as the designated kid wrangler. She made an impression on me very quickly the way she handled the kids. She actually reminded me of Mary Poppins. 
VCOS: Do you have a nanny character?
KATIE: Ah, I wish! We invent our own characters, such as the Blue Flower Fairy and the Pink Unicorn Princess Fairy.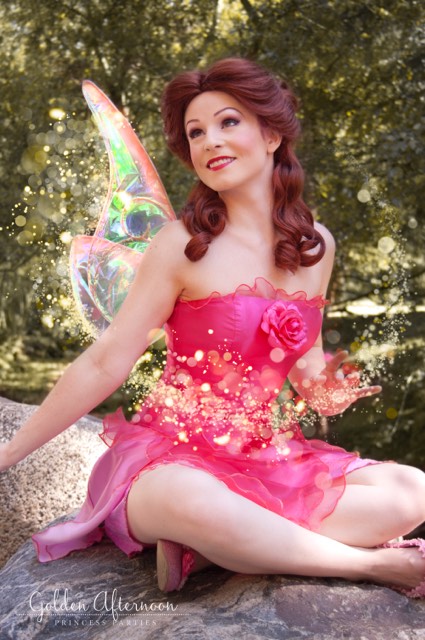 VCOS: Have you thought of creating characters based on those you've portrayed on stage, like maybe Luisa from The Fantasticks?
KATIE: I have NOT thought about that! I'm not sure how popular those kind of characters would be.
VCOS: Well, she could be the Garden Princess and always have a watering can with her.
KATIE: (laughs) I know some companies that have Dorothys. I wanted to add her after I played her in The Wizard of Oz but haven't gotten any requests to do so yet. 
VCOS: How do you feel about the change in princesses' images over the years? They've become more three-dimensional these days. 
KATIE: It is definitely a cultural phenomenon. In the classic fairy tales and early animated movies, princesses didn't have much in the way of a personality and were basically guided by other people. Princes came and saved THEM, they don't really save themselves, but modern princesses do. They seem to be stronger and are very independent, so I try to promote values that are important to our society today, such as equality. I know that some people feel that their films objectify certain characters. It's only recently that television and films have started using princess and characters of different races. 
VCOS: What do you do in the way of storytelling in your parties?
KATIE: We offer that as one of our activities, and it's one of my favorites to do. I'll bring a little storybook and I'll tell my character's story in first person, and I try to make it as interactive as possible. I'll have a speaker set up and I like to put singing into the story as much as possible. There's lots of call-and-response, lots of fill-in-the-blanks, and stuff to keep their attention and help the princess tell her story. So this takes anywhere from 15 to 30 minutes, depending on how much we draw out the story. It's almost like a small play. And I ask the kids, "Do you think this makes nervous?" or was I angry or happy.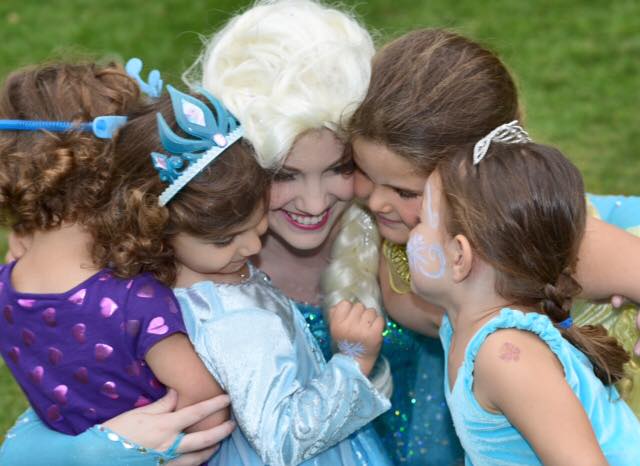 VCOS: What kind of songs do you sing?
KATIE: Well, we usually stay within the princess realm, songs that everybody knows, and every party comes with two songs that we know the kids will sing along with. Since all the princesses know each other, they've all crossed paths and know each others' songs. If you have a creative back story, they'll believe it. 
VCOS: Are the parties just for girls?
KATIE: We've done parties for boys but we don't have many male characters. There was one time when a princess attended a boys party, but she didn't come alone. She might have a male partner with her, like a prince and princess coming together. 
VCOS: How far afield do you go?
KATIE: We travel free within a 25-mile radius from our location in the Valley, but outside of that, we charge a little extra per mile we have to go.  
VCOS: Do you see yourself ever going on to do other things?
KATIE: I want to do this as long as I can. I went to school for musical theatre and my plan was to go to New York right after college, but I'm glad I didn't because I would have missed L.A. too much. Once I started my company, I thought that I was going to be able to be here for a considerable amount of time, and that's fine with me! I'm twenty-five but I still look like I'm sixteen so I'm sure I'll be able to do this well into my thirties, and I really hope that I can. So there's no end date in mind.
VCOS: Are there any gigs that stand out in your mind?
KATIE: Yes. It was my first one ever as a princess. I went as Snow White. I was hired specifically to be Snow White by this company and never played anybody else for them. Before I started working as a princess, I was kind of uncomfortable around kids. I wasn't exactly sure how to act around them. It was a big event at this bed-and breakfast that looked like a castle and it was like a big tea party. I was with a lot of other princesses and I came as Snow White. The first time a kid ran up to me, she threw her arms around me and I was like, what is this that I'm feeling? It was like my heart was melting! And I knew right then that I wanted that feeling for the rest of my life. After that, I just loved kids, I work with them all the time, and I just adore them. 
VCOS: How does this compare with working on stage in a conventional theater?
KATIE: It's a job where I can use all of my talents. We're all singing and acting and being in character the whole time, so it satisfies on many different levels. So I get to sing, I get to work with kids, and I get paid, so, triple whammy. 
************************
For more information on Katie Hume's Golden Afternoon Princess Parties, visit www.goldenafternoonprincessparties.com