William Inge's Bus Stop takes place in 1952, on a highway on the outskirts of Kansas City, where a busload of passengers seeks shelter at a remote diner while waiting out a late winter storm. Bus Stop is a beautifully written tale about loneliness and the choices its characters make to avoid it while waiting for the highway to be cleared. The story's heroine Cherie is not, as the 1956 film version starring Marilyn Monroe so ardently displays, a blonde sexpot making her way to Hollywood and hopeful stardom. Instead, Cherie is a jaded, 19-year-old saloon singer, more experienced than she has a right to be when it comes to men, who inadvertently charms a mercurial Montana cowboy into not asking, but ordering her to marry and return to his ranch with him. Elite Theatre Company's impressive production boasts a stellar cast that perfectly encapsulates its disparate, multi-layered characters, each of whom reveals their respective vulnerabilities by play's end.
Hayley Georgeanne Cariker, returning to the boards after a nine-year absence, is stunning as Cherie. Cherie's life has been anything but glamorous since she left the town of River Gulch in the Ozarks. ("It ain't all roses," she tells the diner's wide-eyed young waitress Elma Duckworth, who is impressed to meet an actual working entertainer.) Cherie was doomed to be no better than a two-bit singer in roadhouse bars when she meets Bo Decker, a primitive "innocent abroad" who is so smitten with her that he virtually smothers her with obsessive possessiveness, kidnaps her, and forces her to get on the bus with him on their way back to Montana.
Brash and boorish, Bo is played by the supremely talented Michael Wayne Beck, who was cast despite the fact that he is probably a foot shorter than what his character should be, but makes up for it through the force of his acting ability. "I can read and write and I'm kind of tidy," Bo tells Cherie, "…and I'm tall!" a line that gets an immediate chuckle from the audience, given Beck's short stature. But Beck's Bo actually believes he is tall in a wild-as-a-bronco portrayal that more than makes up for the casting inequity through sheer force and his convincing performance.
Bo Decker is a walking powder keg with the fuse lit, refusing to take no for an answer when Cherie tells him in no uncertain terms that she does not want to marry him. For all of his violent, untamed tendencies, Bo is not much different from a little boy throwing a tantrum but Cherie feels terrorized by his violent possessiveness to the point where she curls up into a fearful ball on a bench in the diner, quietly sobbing to herself. By show's end, both characters have revealed their softer sides and actually come together, but it's a wild roller coaster ride getting to that point with Cariker and Beck exhibiting potent chemistry and acting ability along the way. When Cariker sings "That Old Black Magic," clad in a flimsy bustier and fishnet stockings, standing on the diner's counter, Beck howls at her like a wolf in a Tex Avery cartoon, resulting in her fleeing the scene in tears. The two are absolutely amazing together.
While Cariker and Beck are battling one another, two other passion plays are taking place. One features the aforementioned Elma, the pony-tailed teenaged waitress who is as innocent as Cherie is worldly, and the only character in the play who is actually happy with her lot in life. Elma becomes fascinated by Dr. Gerald Lyman, another passenger on the bus, who is an alcoholic, twice divorced, self-loathing college professor who chooses a solitary existence, traveling "where nobody is waiting for me." Shayde Bridges is charming and vulnerable as Elma while Scott Blanchard is terrific as the predatory professor,whose designs on the unsuspecting Elma are as insidious as Bo's is overwhelming in his pursuit of Cherie.
Aileen-Marie Scott and Todd Tickner, who are married in real life, play the third romantic couple: Grace, the diner's owner, and Carl, the bus driver. Grace has been abandoned by her husband and looks forward to Carl's regular stops at the diner but the two are still cautious about furthering their relationship, despite being attracted to one another. Scott is particularly marvelous as the no-nonsense, jaded Grace but has a wonderful moment at the end of the play after everyone has left the diner and she is faced with closing up, going through her routine with a sigh of lonesome resignation.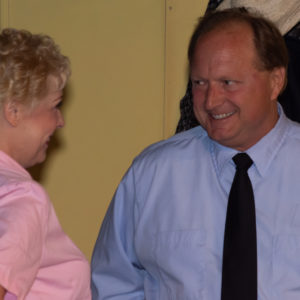 Michael Perlmutter does a splendid job as Will Masters, the dedicated local sheriff, who beats Bo into submission after he tries to physically force Cherie to get back on the bus with him. Bill Walthall is also excellent as Virgil, an older cowboy who has been a father figure and protector to Bo, much like Curly is to Lennie in John Steinbeck's Of Mice and Men.
Brian Robert Harris has done a masterful job directing this classic play, with ample credit afforded to the creatively versatile Reign Lewis, who wears many hats in serving as set designer, prop mistress, and costumer. Her attention to detail is noteworthy, right down to the period-accurate Life magazines in the diner. Bus Stop is a quintessentially American literary classic, exhibiting supreme character definition without resorting to stereotypes, cheap laughs, or implying anything more than the ambiguity that comes with real life.
**********************
Bus Stop plays at the Elite Theatre Company in Oxnard through November 18. For dates and showtimes, see the VC On Stage Calendar.