Staged readings are an emotional time for a writer of a play or musical. It marks the first time a creation moves from the two dimensions of the written word to the three dimensions of a live performance. Readings are often done as testing grounds although some theaters, such as Musical Theatre Guild, do exclusively staged readings to keep shows alive that might not get produced otherwise, either because they do not warrant the attention of mainstream, contemporary musicals or because they have been overlooked by conventional Broadway venues. Darrin Ingram is one of countless playwrights who midwife their own creations, literally bringing them to life by announcing a staged reading, in which actors hold scripts and perform their parts while sitting in chairs with music stands in front of them, so they can occasionally emote using both hands.
On July 30, Ingram premiered his play, Sage, a deeply personal slice of life about an old man on a park bench and the various characters that he encounters, either in passing or who come to sit beside him on the bench. The play was staged at the Conejo Players Theater in Thousand Oaks before an appreciative audience who witnessed a story laden with pathos, humor, tragedy, and good feelings. A few days after the reading, we talked with Darrin about the experience: how it came to be and where it is going.
VCOS: So how are you feeling now that your work has officially been brought to the stage?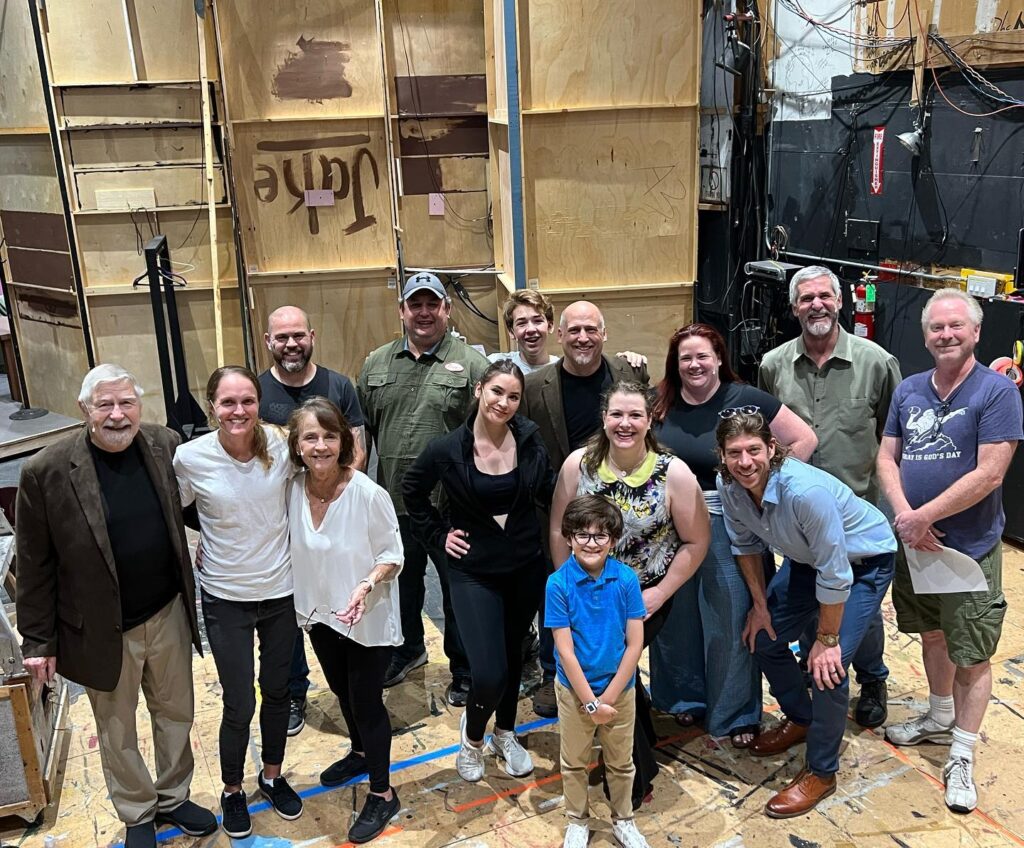 Darrin: You know, it's funny, and maybe this is just part of having grown up in the business, the entire time, the thing that was really euphoric for me was hearing the audience's reactions. The last time I did something like this, we did it on Zoom so I hadn't heard an audience really laugh or heard the silence of the audience. The air changes when people stop breathing. That was really, really cool. Having grown up in the industry, however, I don't feed off of praise or applause. That doesn't motivate me as much as being able to make somebody feel something. That was what was super cool. I wrote something that made people feel. And that's the contract. When you say come see something I wrote or something I'm in, that's the contract. I'm going to take you somewhere for x amount of hours and then if I don't, then I've let down my side of the bargain. So when I heard them roar and somebody told me they cried or moved them, that's what I liked.
VCOS: Where were you physically when the play was going on? Where were you watching from and who were you watching? The actors or the audience?
Darrin: I was in the very, very back row, for a couple of reasons. One, I wanted to tape it, and two – it was a little bit of both actors and audience. I was watching the stage when the challenges happened involving a music stand falling apart and a microphone malfunctioning but for the most part I was watching the physicality of the audience. Were they leaning forward? Were they sitting back? Were there parts were people were fidgeting around or looking at their phone because then I knew that I had lost them in those moments. I knew a couple of people who were sitting several rows in front of me. And these people I knew were very ADHD when it comes to watching shows; they can never sit still. And I HAD them! That was the win right there.
VCOS: As a director, did you find yourself being more attuned to what the audience was doing because it was YOUR piece?
Darrin: Yeah, it's different. And yes, I did direct this, but still, it was just a reading. When I direct, I'm far more invested in the cast doing what they feel is their best performance and looking to see where I have either let them down as a director or set them up to succeed. Those are the things I'm looking for when I'm directing a show. I want to facilitate their best possible performance. With this, it was far more of about is it doing what I hoped it would do, is it giving them the experience that I hoped it would give? Are they getting the jokes that only I snickered at when I wrote them? Was I too fast in the scene transition? So there was a lot of that introspection. Are they getting it? Because if they're not getting it, then I'm not done.
VCOS: Well, you're never really done. There is always something that can be polished or perfected.
Darrin: I found six the other night (laughs).
VCOS: Right. Pacing, timing, reactions. That's what it's all about. Refinement.
Darrin: It's interestingly enough that you say that. There were probably twenty minutes of the show that you didn't see because a lot of the show is what happens without the words. At the top of Act II, there is a good ten minutes that we can't do in a reading because what the audience would look at each other and say, "Well, who's supposed to talk?" There are some things in a reading that you need a full production to do. Little things, like turning the pages of a newspaper, adjusting the third time the old man makes it onto the stage. The first two times it's very precise and the third time is like, everything's wrong because of the changes that have happened throughout the show. So there are little moments that don't translate to a reading. And that's 20 minutes worth of business. That's one of the challenges of doing readings in general. Acting often happens between lines but audiences at readings expect the lines to carry and if they don't, they think that maybe someone has lost their place on their page.
VCOS: Did you feel the absence of props?
Darrin: I did. We tried it. I brought in some flowers but it just didn't work. It gets too clumsy with everyone holding their binders and they're sitting and not standing.
VCOS: Is this your first written play?
Darrin: No, not my first written play, but it's my first published play. I wrote a play for Jan Glasband at Simi some years ago. I want to say 2004. It was a choose-your-own-adventure Halloween farce. Was it well written? I don't even remember. I don't have a copy of it. But we got to perform it and it was a kids show so the kids would scream for the next event: should the werewolf jump into the window or should he eat the sauce? You know, that kind of thing. But this is my first published play and it's the first play of mine that I would want somebody else to read. I don't know if I'd want anybody to read the play I wrote for Jan (laughs). That can live where it did way back in the past.
VCOS: What inspired you to write the story and populate it with the characters you created?
Darrin: I saw a mini-series on television called When They See Us. It was a story about the Central Park Five. Now this story and my story are completely unrelated but at the beginning of the mini-series there was a scene where this blonde woman runs into a park. COVID had just emerged at that time and we weren't doing art. All art had shut down. All the theaters were closed. And I remember thinking that I had to do something, I needed to create. So I sat down and said I'm going to start with a runner in a park. That was it. I didn't know where I was going to go with this so I said to myself, well, who's the first person this woman is going to run by and I thought, what about an old man on a bench? That's seemed pretty logical, so let's go from there. Now, who else is this old man going to see, because the runner seemed transitory so let's focus on this old man for a second. Why is he there? What is he doing? And it's funny because I found myself going back to the old school Uta-Hagen-how-do-you-develop-a-character questions that you ask yourself when you're creating a character: Who am I? What time of day is it? Where am I? What's around me? All those things that you do to build a character. And then I thought, what I'd really like to do is write a character in honor of my daughter, who's autistic. And I'd like to write it in a way that doesn't make it heavy handed and doesn't make it a story about autism. But I want to make this character central to the story and not a transitory one like the runner. So that's where the idea of the park keeper came in. When you have challenges interpersonally, what better way to be able to navigate them them to own the space you're in?
VCOS: That character was beautifully played by a remarkable actor, Scott Gilbert. Had you known him before?
Darrin: Yes. Ohhhh, yes. Going back to Simi, Scott was doing Big River, 2004 or 2005, something like that, and he was playing the King. For whatever reason, the guy playing the Duke left the show right before it opened. And Jan called me up and said would you be willing to play the Duke this weekend? (laughs) And I said, yeah, sure. And here's what's interesting, kind of a tie to what we did last Sunday. I had done Big River in the early nineties at Conejo Players. It was the first show I had ever done at Conejo Players and Dick Johnson, who plays the old man in Sage, was the director of that show. The person who played the park keeper the first two times I did this on line was also Tom Sawyer in that show. So Scott and I did the Duke and the King and became fast friends. We did improv together and worked in a children's troupe together so I knew that he had the capacity to stay real and to honor the character as opposed to making it a caricature, which is very easy to do, like the movie tropes that you've seen over the years. To his credit, one of the questions he asked me was do I want to cast somebody in that spectrum for that role? And I said absolutely, I would love to.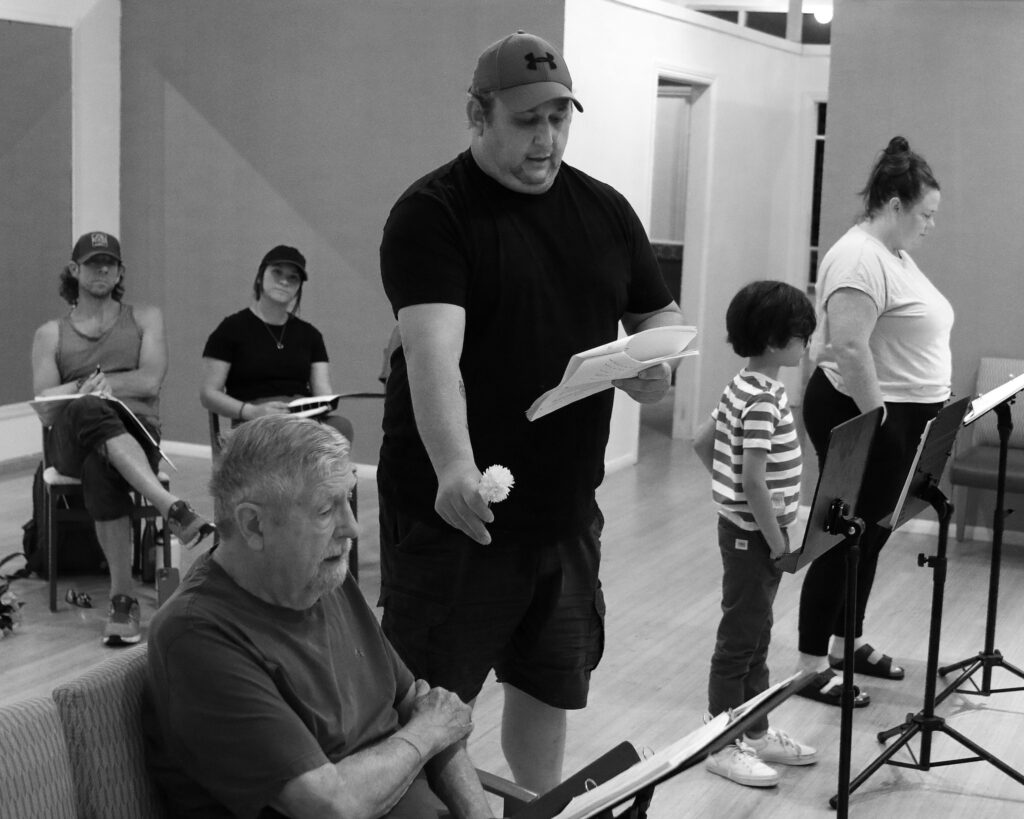 VCOS: As an actor, did you have to resist the urge to cast yourself in the show?
Darrin: I didn't write a character for me, and I did that deliberately. I didn't want to have any biases when I wrote it. I wanted to write something without me in it so I wouldn't be biased towards the story line or any character.
VCOS: How would you gauge the entire experience, now that the initial staging in front of an audience is done?
Darrin: Oh, gosh. You know, the experience is on-going but it's been wonderful. The support I've gotten, the reactions and the feedback I've gotten…you know it's funny. The theater world can be very catty. And this community has been anything BUT that. They literally said let's embrace this and see what we can do to move this along. There have been people who have reached out to other people who have produced shows and said, we have this show, would you please produce it? It's been just great. I can't overstate how people have said, I want to help you, with no benefit to myself.
VCOS: Pretty unusual for a traditionally competitive industry.
Darrin: Right! And I hope they know that I'm not in this to become a world famous writer and make a lot of money on Broadway. I come into it wanting to tell a really great story and have people enjoy it.
VCOS: What are your next steps with Sage?
Darrin: I need to get it on stage with a full production. That's one thing that Sunday's show told me. It's ready. Could I tweak a line here and a line there? Sure. But it's ready for a stage. And it needs a stage where the audience understands its intimacy. It's not Oklahoma! It's a show about life. So it needs a stage that can support that. There are several theaters in this community that can do that. Conejo Players is one of them. So that's the next stage. With what I got from this reading, I can make a promotional thing to use for the theaters in the area. It's already published, it's gone through all the stages of development that need to be done before it can go on stage. It's ready.
VCOS: Do you want to do it here in Ventura County?
Darrin: I'd like to, so I can stay close to it but wherever it ends up, I'm going to go there, even if it's just to be an observer. I know of a school that wants to do it for their fall production and there's a theater in New Jersey that is very, very interested in it and another in North Carolina that might be proposing it, but nothing's firm yet. Here, there's Santa Paula, Ojai, the Elite, Jan's theatre in Simi. And of course, Conejo Players. There are theaters here that can support and there are theaters in the city that could support it. And if I don't find a home for it, then I'll try and raise funds and do it myself. That's literally where I'm at. I'm not going to let it die on the vine. I'm giving myself a six-month timeline to have something firmed up. It probably won't go in a 2024 season, most theaters have already set that, but if I can get into a 2025 season, that's the goal.
***********************
In mid-August, Darrin and Susan Ingram are opening up Encore Studios, a performing arts workshop located at 11 East High Street, next door to the High Street Arts Center in Moorpark. All ages are welcome. Included will be classes on dancing, acting, singing, improv, stage combat, and writing for kids and adults.  They will also be conducting periodic workshops on audition technique, producing, directing, and the business of the business.