If you were a five-year-old girl going to see her first musical, Agoura High School's recent semester-ending production of Rodgers and Hammerstein's Cinderella would be the one to see. With an outstanding cast, gorgeous costumes, and a full, 45-piece student orchestra, there is little doubt a number of the younger children who filled the school's Performing Arts Education Center over the weekend left the theater with stars in their eyes.
Agoura High's production, directed by Broadway veteran David Krassner, was about as professional looking as any high school production could be, with outstanding performances throughout the cast, led by a shining performance by senior Gigi Velloso as Cinderella (double-cast with Ella Salter). The differences in this production of Cinderella with the one most audiences are familiar with will take some explaining, so first, a little history.
Cinderella was the only Rodgers and Hammerstein musical that was produced for television instead of for Broadway. The 90-minute-long production (with six commercial breaks) was seen by 107 million people and was a highlight of the so-called "Golden Age" of Broadway. Julie Andrews was currently doing eight performances weekly as Eliza Doolittle in My Fair Lady but took time off to play the title role (Richard Rodgers famously told TV Guide, "If Julie can't make the show, then neither can we."). R&H were planning on transforming the show to Broadway but Hammerstein's death in 1960 ended that.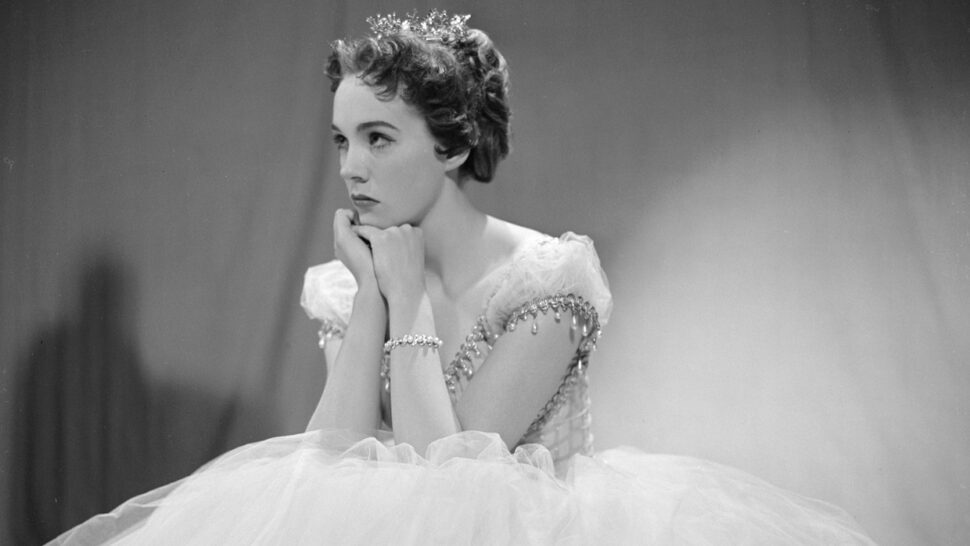 A 1965 version, also for television, featured a newly rewritten book that was closer to the traditional fairy tale and boasted an all-star cast, including Lesley Ann Warren as Cinderella, Walter Pidgeon and Ginger Rogers as the King and Queen, and Celeste Holm as the Fairy Godmother.
Other versions followed, most notably a third successful television special in 1997 with Brandy (Norwood) in the title role.
In 2013, playwright/screenwriter Douglas Carter Beane wrote an entirely new script, casting Cinderella in a different light, including new characters, changing others, adding new contemporary dialog and five additional Rodgers and Hammerstein songs that weren't in the original production. Beane's version was the first with the Rodgers and Hammerstein score to be mounted on Broadway, starring Laura Osnes in the title role. It ran for 770 performances and received nine Tony nominations.
The 2013 version brings Cinderella into today's world, with more contemporary, breezier language and a socially activist sub-text that made it relevant for modern audiences. (There is even a selfie moment.)
Cinderella is now simply known as Ella while Prince Christopher is abbreviated to Topher. The King and Queen have been jettisoned from this story, explained in the script as having died. New characters have been added to lengthen the story to the conventional two-hour Broadway duration, including the Lord Chancellor Sebastian (Topher's trusted adviser) and his adjutant, Lord Pinkleton. A third new character, Jean-Michel, is a social activist who is determined to get Prince Topher to revolutionize the kingdom by lobbying Topher to provide a better way of living for the kingdom's poor.
Cinderella's mother and stepsisters' characters have been filled out so that they are no longer necessarily just wicked and ugly. One of the sisters, Gabrielle, actually becomes a confidant of Ella's and a sympathetic figure. The Fairy Godmother now has a name, Marie, disguising herself as a poor, unbalanced and apparently homeless woman just to see who treats her with kindness and compassion.
As everyone knows, the key plot device of the "Cinderella" fairy tale is the Prince's search of the countryside for the beguiling girl he had met at the ball who had lost her glass slipper. In the new version, this trope is turned into a joke, as plucky Cindy purposefully drops her shoe right in front of the prince ("Oops!"), a move perfectly in line with the modern-day damsel-in-distress-with-moxie. No longer do princesses hang around the hovel waiting for Prince Charming to come and get them or awaken them with a kiss. This Cinderella is not just interested in lassoing a rich husband, but is resolved to being kind to others, which has now become the central theme of the show.
All of these changes come as a shock to those who fondly recall the earlier television versions of the story. What was once an escapist, timeless story with black-and-white, good/evil characters has now been modernized to bring the complexities of today's society into a world of unfantasy-like, flesh-and-blood people. The concept of making a fairy tale contemporary isn't at all new; we are reminded that Stephen Sondheim did it in 1987 with Into the Woods and the Peter Pan story was embellished in the prequel Peter and the Starcatcher in 2009, just to name a few examples.
Agoura High's theatre department is one of the few high schools around with its own regular music director (Robert Hackett) and vocal director (Chad Bloom). As a result, the young cast was well-trained in every aspect of the production, accented by Brette Benson's stylish choreography and Shon Le Blanc's colorful costumes.
Gigi Velloso is a Disney princess come alive, combining an optimistic effervescence, an ever-present smile, and a sweet singing voice. Velloso, a senior performing in her final AHS show, will be moving on to Chapman University's Dodge College, where she will be a film major minoring in musical theatre. Her shimmering voice is perfectly suited for the classic songs in Rodgers and Hammerstein's score, including "In My Own Little Corner" and her duet with Marie (an excellent Annie Vincent), "It's Possible."
Burly Senior Sam Jenkins (double-cast with Lucas Weinken) played Prince Topher, adding a touch of gentility to his character as well as some nice tenor singing on songs like "Ten Minutes Ago," a quintessential Rodgers waltz, and "Do I Love You Because You're Beautiful?" Exemplary performances in the Gold Cast were also turned in by Christina Kroker (Stepmother), Lauren Ptolemy (Gabrielle), and Maya Shafshak (Charlotte) as Ella's family. Kai Schwartzberg (Sebastian) and Yale Coopersmith (Lord Pinkleton) provided excellent singing voices to their characters while Austin Hauser was effective as Jean Michel.
Five new songs were brought to the production; all of them trunk songs from prior Rodgers and Hammerstein shows. "Me, Who Am I?" sung by Topher as he faces his uncertain future as king, was cut from the 1953 R&H musical Me and Juliet. "Loneliness of Evening" was originally meant to be sung by Ezio Pinza in South Pacific (1949) but became a contemplative song sung by Ella and Topher in the 1965 TV version. "There's Music in You," the show's inspirational "Climb Ev'ry Mountain" moment, was added to the 1997 Brandy version, but was originally sung by Mary Martin in the 1953 film Main Street to Broadway. "Now Is the Time," combined in a medley with "The Prince Is Giving a Ball," also came from South Pacific. "He Was Tall," a brief song sung by Ella, was originally written for Gertrude Lawrence as Anna in The King and I (1951).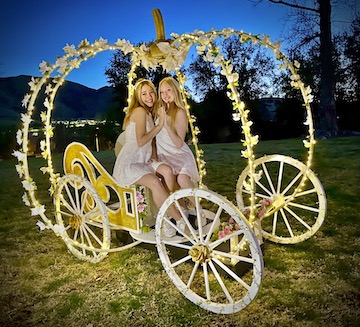 The set designing team came up with a wonderful pumpkin coach that had the audience gasping in amazement. Rear projections set the scenes but there was also a marvelous façade of Ella's house; the Fairy Godmother sang "There's Music In You" while atop its roof.
All in all, AHS's production of Cinderella was highly entertaining and visually and aurally sumptuous, combining the magic of the original fairy tale with some contemporary twists and enhancements, balanced by an astute team behind the scenes and an exemplary cast. It's not your grandmother's Cinderella but like that slippery slipper, it fits just nicely.