Recently we profiled a changing of the guard of Conejo Players Theater, one of three local production companies that has taken on new management and possible new directions. Today we focus on the Elite Theatre Company in Oxnard, which now has been blessed by having a respected local veteran of stage management put in charge as its new artistic director. Anyone who has been to the theater in Ventura County knows L.J. Stevens, who has worked behind the scenes as well as on stage in a dizzying array of capacities, from talent scout, producer/director to working as an actress. We caught up with L.J., who started by talking about her most recent experience in theater management in her work for the High Street Arts Center in Moorpark.
VCOS: The last time you engaged in this kind of project was when you were at the High Street Arts Center. Can you talk about how that came to pass?
L.J.: The city of Moorpark had purchased the building back in 2005 through its redevelopment department, back when they had a redevelopment department, and brought me in the following year to create a cultural arts center. At the time, that was their focus. They pointed to what the Simi Valley Cultural Arts Center was and said, "that's what we'd like you to create." So I said I could do that. I had been working with them since 1997 in various capacities. So I started on May 30, 2006 and immediately began creating a season, much like what David Ralphe had been doing at Simi. At that time they had two renters a year so I started reaching out to other renters and grew it from there. I was there for almost five years, with four full seasons, and they all paid for themselves by the end of the year. Some shows lost a little money, other shows made money, but our production costs were all met by ticket sales right from the start, which was great. But I also reached out to Moorpark College, we created a student film festival, we had the High Street Broadcast, which was our free programming that allowed us to reach out to people who could not necessarily pay for tickets but still wanted some sort of entertainment in their lives for live theater. We also created Moorpark's Got Talent, we had a battle of the bands there, and in between everything else I was able to have ten rentals a year. So by the time I retired from there 50 out of 52 weekends had programming at the High Street Arts Center.
VCOS: So eight years later you're ready to go at it all over again with Elite? How did that come about.
L.J.: Well, they asked! (laughs) It was a sudden need that they had. In between High Street and now, I served as the president of the Simi Valley Cultural Association and then I was on the board at Camarillo Skyway Playhouse. I was also working with a theater in L.A. called the Eclectic Company Theater and served on their board. My daughter Penny is also in show business; she had booked a pilot for a TV show and was doing commercials and such so that kept me very busy for a few years. So my fingers have never been fully out of it! Then of course, in between, every now and then I'd get an opportunity to be on stage. As it turned out, I was on stage at Camarillo Skyway Playhouse when the need came up at the Elite so I was asked to step in and serve as their artistic director. 
VCOS: What are the challenges you see for this theater?
L.J.: Well, there are some challenges in terms of the space itself. We are in a year-to-year contract; there are developers that own the property who are still trying to work out some stuff in terms of redeveloping the property and we're not sure if they will want to keep us when they finally get the green light. There are some challenges in terms of water damage that came from a leaky roof. I've been told that has been fixed but there remains some cosmetic damage that has to be dealt with. There are some challenges in terms of the audiences, who have expressed that they are looking for a different taste in terms of the programming so I am working on changing some of that, bringing in more uplifting programming. My specialty is comedy so I'd like to bring in some more of that, and also some programming that reaches out that is more fair in terms of women's issues. It's true in all of the arts and especially in the acting profession that there is a disproportionate number of actresses vs. actors than there are scripts, which generally are more disproportionate towards men than women. So this makes it a challenge to choose scripts that reflect what the proportion is. I am finding, as a performer as well, that there are less offerings out there for us ladies. So I'm trying to even that out within Ventura County.
VCOS: Are you receiving pressure to stage familiar plays rather than risking newer projects and those by local playwrights?
L.J.: That is something I'm looking at in terms of our one-act festival. We had already had a call for entries before I started but I am looking at the possibility, starting next year, of fine-tuning the one-act festival and focusing on local authors. I would like to concentrate on that much much. Out in L.A., it is mostly television and film and I worked in that area for years as a talent agent and a casting director, working in TV, film, and voiceovers. In Ventura County, we've got the fine arts, visual arts, and we've got theater, and I think that's where we have a leg up on L.A. And we've got some wonderful authors, book authors, play authors, and I would really like to concentrate more on what we've got going on here locally. I would like to bring some things in regarding decorating the lobby with works by local artists. We have a studio gallery right next door to the theater that features some great local artists. I think we can pick some wonderful art that will reflect whatever show is going on to feature in the lobby. We've got some great book authors who would like to do signings or readings, and I would also like to redirect our one-act festival to more local playwrights and feature those as well.
VCOS: Not many theaters have two stages so what plans do you have for that?
L.J.: Part of this is determined by what the needs are for the set. Recently, we had two programs going on. We had a youth show called Yearbook, that was put on by young people from 11 to 17. They did not require a big set, so our black box environment worked very well for them. So instead of putting that on the main stage, which is what it was originally slated for, I put that in our black box. We have also been working on a great partnership with LitLive. Their show, which was The Laramie Project, with the size of the cast that they had, required a bigger stage, so I made the decision to put them there. Since Laramie was more of an adult kind of program, I was able to schedule that for nighttime slots and do Yearbook during the day. That way, I could stage five different performances on a weekend without overlapping at all. So that's the kind of thing I hope to do going forward, to take advantage of both of our stages. The smaller stage is also great for classes and book readings, poetry events, which I also did at High Street. I would like to see that here as well, with local poets and local artists. 
VCOS: Do you envision how long you might be doing this?
L.J.: Right now, my agreement goes through the end of 2019, which will be a great way for us all to feel out what we want from this stage. Our board has expanded from three to seven people so we have some great new local people like Mike Marsalisi, who is spearheading our fundraising. Mike is young, hip, and very passionate, and has fundraising experience. The other board members have experience on what has been done in the past. We have one who was on a local school board, so he brings in experience on what the area needs in terms of educational programming. So I'm very proud to be working with these people who are very passionate about Oxnard and about what the theater can bring to the local community.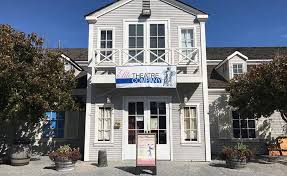 VCOS: Technically, what kind of enhancements do you think the theater needs most?
L.J.: (sigh) Oh, EVERYTHING! It's a challenge because the space is so small and the ceiling is not very high.
VCOS: So no Peter Pan.
L.J.: (laughs) No Peter Pan, no Mary Poppins, so there really isn't more we can do to change things, just upgrading would be wonderful.
VCOS: Like what, for instance?
L.J.: We'd like to have new LEDs, our speakers can all be replaced, and lighting outside the theater is a special challenge. We're thinking of installing stronger solar lighting because there isn't really any place to plug outside lighting into. Solar is difficult, however, because it doesn't throw off enough amperage, not enough to make a difference at night to show where the theater is. Signage itself is often an issue as well. So we're all working on that, piece by piece. Part of that has to do with the fact that these are new developers and they're in a wait-and-see pattern and nobody wants to build new signs if we're not going to be there for very long. 
VCOS: Do you have any location contingencies in case you get evicted?
L.J.: That is a board question. I don't know if there are contingencies at this point, but if there are, it's not a very long list. 
VCOS: Do you have a girl or boy Friday?
L.J.: That would be Stephanie Rice, who is our managing producer as well as president of the board. She is a big reason for me being asked to come on board as artistic director. She has been working at the theater for about three years in several capacities. She knows everything about the theater and its inner-workings and how it's been working over the past few years. I worked at the theater as a producer and director, as I think you know, back in 2013 for a short while, during the year when Andrew David James stepped in as artistic director. That was when the theater had to move, so he oversaw that transition. That was also when LitLive was actually born, here at the Elite, with Dark Heart of Poe. They started that and have grown since then, but that was an egg that was hatched at the Elite. So I've kind of brought that eagle back home and it's one of the reasons why I'm so passionate about working with them. 
VCOS: They've been looking for a home, too.
L.J.: Yes they have. So the partnership we had during this last production fit so well. We're going to have an announcement soon about a fundraiser that we're very excited about that is coming up in October, so stay tuned for that!
VCOS: We will!
*********************
For more information on the Elite Theatre Company, its upcoming schedule, and details about its shows, visit www.elitetheatre.org.
Our series will conclude this week with a talk with Patrick Cassidy, new artistic director for 5 Star Theatricals (formerly Cabrillo Music Theatre)